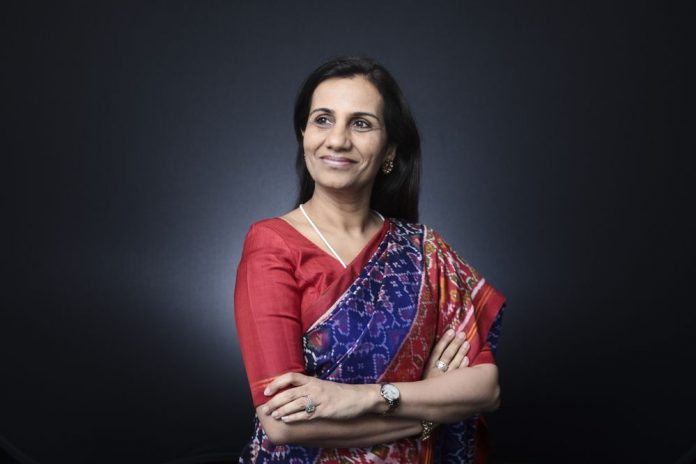 India's federal police filed a case alleging that former ICICI Bank Ltd. Chief Executive Officer Chanda Kochhar got "illegal gratification" for approving a loan to the Videocon Group in violation of the lender's credit policy and regulatory provisions.
In the filing at a police station in New Delhi, the agency also said it may start investigations into the role played by other members of the bank's sanctioning committees including Sonjoy Chatterjee, chairman and co-chief executive officer at Goldman Sachs Group Inc.'s India unit, Zarin Daruwala, CEO of Standard Chartered Plc in India, ICICI Bank CEO Sandeep Bakhshi, N S Kannan, CEO of ICICI Prudential Life Insurance Co., Rajiv Sabharwal, CEO of Tata Capital Ltd., and K. V. Kamath, president of New Development Bank.
The executives worked at ICICI Bank during the time loans to Videocon were approved, according to the report. Some of the accounts later turned bad.
Lenders have been under a spotlight as India tries to rid its banking system of billions of dollars of non-performing debt. Current and former top bankers from at least four state-run banks have been investigated for alleged impropriety, while the heads of several private lenders have been censured for underreporting soured loans. The latest action, which threatens to expand the probe some of India's most prominent bankers, may heighten concern that lending decisions will be second-guessed if loans sour.
"India's premier criminal investigation agency naming the entire senior management at that time reflects very poorly on the ICICI Bank and corporate governance of private sector banks," said Hemindra Hazari, a Mumbai-based independent banking analyst who has covered the sector for two decades and publishes at Smartkarma.com. "Private sector boards are the last place where CEO actions are checked."
The formal start of a probe comes almost 10 months after ICICI Bank's board said it had "full faith in the bank's" then CEO Kochhar after The Indian Express newspaper alleged in a report that investigative agencies are examining the Videocon transactions. A few months later Kochhar went on leave before resigning in October.
The Central Bureau of Investigation — similar to the Federal Bureau of Investigation in the U.S. — has alleged that ICICI sanctioned loans to companies from the Videocon group, founded by Venugopal Dhoot. Following the approval of one such advance, Dhoot invested 640 million rupees in a company owned by Kochhar's husband.
The former ICICI Bank head "got illegal gratification / undue benefit through her husband," the CBI's report stated. The lender was cheated to the tune of 17.3 billion rupees, according to the complaint.
Representatives for Goldman Sachs, ICICI Bank, ICICI Prudential Life Insurance, Standard Chartered and Tata Capital didn't respond to requests for comment. Kamath, Dhoot and Deepak Kochhar, Chanda's husband, also didn't respond.
— With assistance by Anto Antony