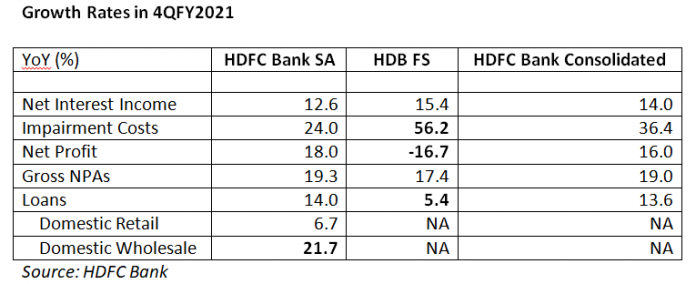 EXECUTIVE SUMMARY. There are two features worth noting in HDFC Bank's 4QFY2021 results. The first is the continuing de-emphasis on retail loans. This was visible in the lower retail loan growth and the poor performance of HDB Financial Services, the non-bank finance subsidiary which is bearing the brunt of the Covid induced slowdown in the economy. The second is the inability of the Bank to provide any clarity on when the Reserve Bank of India (RBI) could lift the ban on selling of credit cards and sales from digital products. The bank's inability to provide the market with clarity is probably because it does not yet have that clarity itself, as the technical audit authorised by the regulator is still ongoing. The periodic digital disruptions to the bank's customers, a symptom of larger problems of inadequate investment in infrastructure, may further prolong the ban.

The bank's results overall were commendable for the current economic environment (although this analyst continues to disapprove of the rise in deferred tax assets), as it appears to have its asset quality under control. However, its Achilles Heel appears to be its information technology infrastructure, which may take some time to stabilise and provide comfort to the banking regulator.
DISCLOSURE
I, Hemindra Hazari, am a Securities and Exchange Board of India (SEBI) registered independent research analyst (Regd. No. INH000000594). I own equity shares in HDFC Bank. Views expressed in this Insight accurately reflect my personal opinion about the referenced securities and issuers and/or other subject matter as appropriate. This Insight does not contain and is not based on any non-public, material information. To the best of my knowledge, the views expressed in this Insight comply with Indian law as well as applicable law in the country from which it is posted. I have not been commissioned to write this Insight or hold any specific opinion on the securities referenced therein. This Insight is for informational purposes only and is not intended to provide financial, investment or other professional advice. It should not be construed as an offer to sell, a solicitation of an offer to buy, or a recommendation for any security.