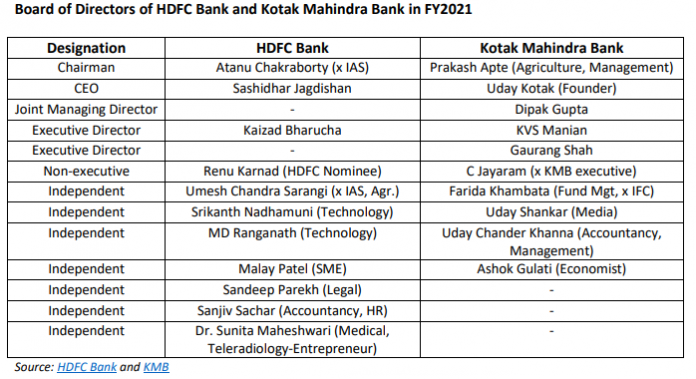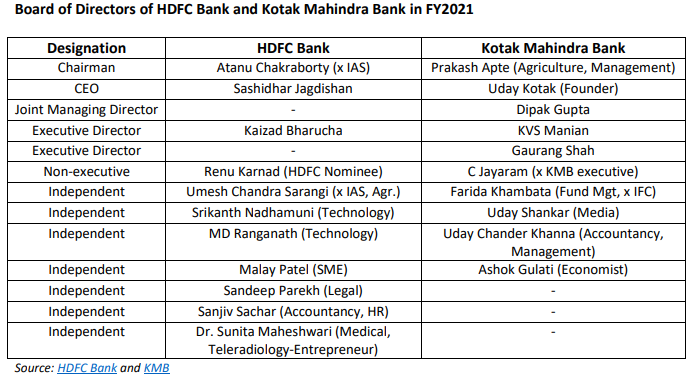 EXECUTIVE SUMMARY. A notable feature in HDFC Bank and Kotak Mahindra Bank (KMB) is the historical absence of any commercial banking expertise amongst the independent directors on the boards. The founders (HDFC and Uday Kotak) and the Nomination and Remuneration Committee in both banks, as a deliberate strategy, have tried to ensure that only non-independent directors have commercial banking expertise. This is unusual, as other private sector banks such as ICICI Bank, Axis Bank, Indusind Bank and Federal Bank have former commercial bankers as independent directors on their boards.

Banking, being a specialised and highly regulated sector with an economy-wide systemic impact, needs that some directors have commercial banking expertise separate and distinct from the executive. The absence of such independent functional expertise on the board is a sign that the executive/controlling shareholders do not want to be challenged or to have close oversight in the banks' core area of operations.
HDFC Bank and KMB are poster banners for private sector banking in India, with a combined market capitalisation of US$ 159 bn. They have achieved this without the presence of former commercial bankers as independent directors. Both Aditya Puri (erstwhile HDFC Bank CEO) and Uday Kotak maintained an iron-clad grip on asset quality, which is visible in their track record of profitability and stock market valuation. However, banking should not be individual-based, but based on appropriate systems. A diversified board of directors, including those with commercial banking expertise independent of the executive, should be mandatory in all banks. Regardless of their track record and valuation, banks which deliberately exclude such critical functional expertise on their boards must be hauled up by the Reserve Bank of India, credit rating analysts and the capital markets. The fact that HDFC Bank and KMB have rewarded shareholders manifold without such independent expertise on their boards should not be an excuse for such an anomaly to continue, nor should it be replicated in other banks.
DISCLOSURE
I, Hemindra Hazari, am a Securities and Exchange Board of India (SEBI) registered independent research analyst (Regd. No. INH000000594). I own equity shares in HDFC Bank, ICICI Bank, Axis Bank, Indusind Bank, IDBI and SBI. Views expressed in this Insight accurately reflect my personal opinion about the referenced securities and issuers and/or other subject matter as appropriate. This Insight does not contain and is not based on any non-public, material information. To the best of my knowledge, the views expressed in this Insight comply with Indian law as well as applicable law in the country from which it is posted. I have not been commissioned to write this Insight or hold any specific opinion on the securities referenced therein. This Insight is for informational purposes only and is not intended to provide financial, investment or other professional advice. It should not be construed as an offer to sell, a solicitation of an offer to buy, or a recommendation for any security.