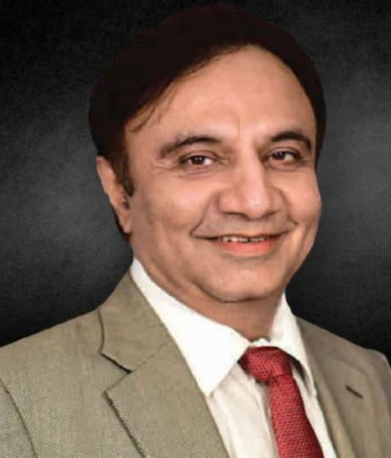 One might think that the ICICI Bank board, worried at the beating its image has taken in recent months, might try to restore public confidence by selecting an impeccable stand-in for its CEO-under-investigation. But, true to form, the board has selected a gentleman in whose tenure as CEO, ICICI Prudential Life Insurance, unethical practices were rampant; who authorised a false police complaint against a whistle-blower; and the senior management of ICICI Prudential Life Insurance may be implicated in a current police investigation of malpractices in Rajasthan.
In a convoluted reporting structure, the ICICI Bank board of directors brought in Sandeep Bakhshi, the CEO of ICICI Prudential Life as a board director and the Chief Operating Officer (COO). This is a newly created post in ICICI Bank, reporting to Chanda Kochhar, CEO; while Kochhar is on leave, Bakhshi will report to the board. This appears to be either the board bowing to the wishes of Chanda Kochhar for her eventual exit, or Kochhar engaging in back-seat driving. The media and sell-side analysts responded with favourable reviews of Bakhshi's promotion and complimented him for his tenure as CEO of the life insurance subsidiary. But is Bakhshi 'fit and proper' to be in charge of ICICI Bank?
In the fawning pieces written about Sandeep Bakhshi in the media, in what passes for business journalism, he has been hailed as a customer-centric corporate executive. Tarun Chugh, CEO Bajaj Allianz Life Insurance, who formerly reported to Bakhshi in ICICI Prudential Life, said in a Times of India article:
"He is one person who always put the customer first in his thinking. He builds institutions for the long term and does not bother about short-term gains."
Monika Halan, the consulting editor at Mint, endorses his promotion and says ,
"Sandeep Bakhshi is probably the best placed today to calm the turbulent waters at ICICI Bank Ltd".
Not to be left behind in their adulation of the apparent newly appointed heir, sell-side analysts also endorsed his candidature. IDFC in its research note, said,
"Win-win for both ICICI Bank and ICICI Prudential"
Jefferies in their research note dated June 18, 2018 stated,
"Bakhshi's 32 years of work at bank under different verticals should aid smooth transition."
It is therefore no surprise that despite the conduct of Chanda Kochhar and the lack of credibility of the ICICI Bank board, out of the 51 sell-side analysts tracked by Bloomberg, 92% (47) maintain a 'Buy' recommendation while only 6% (3) maintain a 'Hold' recommendation.
The business media and the sell-side have turned a blind eye to the rampant mis-selling of ICICI Prudential Life Insurance policies in Rajasthan under the leadership of Sandeep Bakhshi. The extensive mis-selling by ICICI Prudential, resulting in distress to many low-income farmers and even some middle-income, educated individuals, compelled the Rajasthan police to initiate a lengthy investigation into the conduct of the company. The investigation is still ongoing. Mahaveer Singh Ranawat, additional superintendent of police (Special Operations Group), who conducted the preliminary investigation into the ICICI group mis-selling in Rajasthan told The Wire, an online newspaper,
"So far, our investigation has revealed fraud and serious violation of IRDAI [Insurance Regulatory and Development Authority of India] guidelines. The bank and the insurance authorities also did not cooperate with the investigation and tried to mislead us. The scale of this fraud is massive."
Nitin Balchandani, a former employee of ICICI Prudential Life turned whistleblower was instrumental in highlighting the mis-selling to the regulatory authorities, media and even directly to Sandeep Bakhshi. Instead of acknowledging the complaint and improving the firm's processes, Sandeep Bakhshi, as CEO, authorised a false criminal complaint of stealing confidential company information to be lodged against the whistle-blower, resulting in Nitin Balchandani being in judicial custody for 30 days. A letter of authority, presented by ICICI Prudential Life to the court, stated,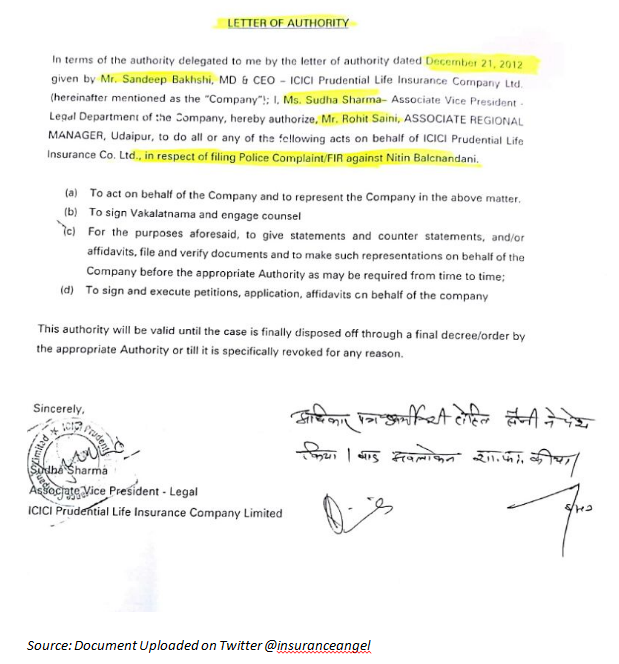 The state and ICICI Pru Life failed to provide any evidence to the court of the confidential information that Nitin Balchandani was purported to have stolen. The High Court of Rajasthan at Jodhpur passed its judgment (Serial No. 42, Case No. 1447 of 2017) on January 16, 2018 clearing Nitin Balchandani of all charges and stated,
"there was no justification whatsoever behind the action of the investigating officer to have filed a charge-sheet against the petitioner [Nitin Balchandani] for the offence under Section 420 [Cheating and dishonestly inducing delivery of property] Indian Penal Code."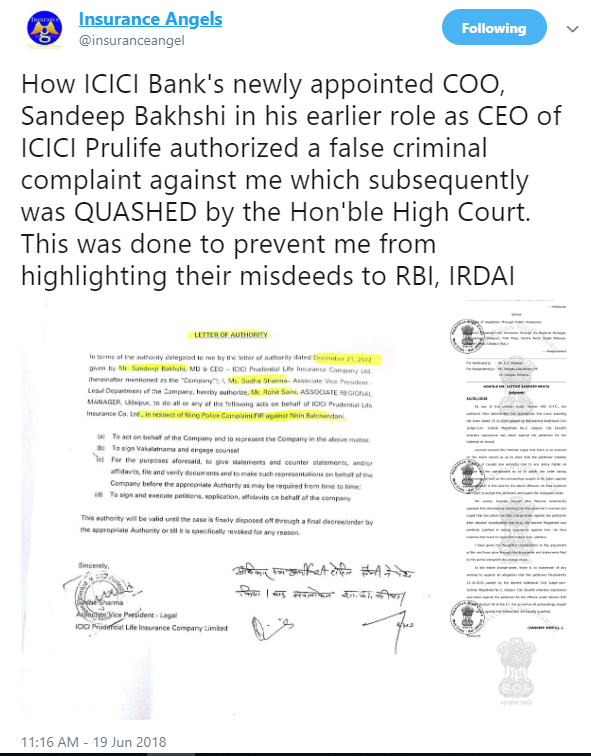 The widespread mis-selling of life insurance in Rajasthan by ICICI Prudential Life was either a business strategy and/or complete lack of control exercised by the senior management of the company. In either case, Sandeep Bakhshi as CEO was accountable for it. Worse, instead of rectifying the problem, he initiated a false criminal complaint against the whistle-blower, which was rejected by the Rajasthan High Court.
In selecting Sandeep Bakhshi for such a critical post at ICICI Bank, the beleaguered ICICI Bank board are unconcerned that under Bakhshi, ICICI Bank may focus on mis-selling financial products to its entire retail customer base, further damaging the bank; or that the Rajasthan police investigation may indict the senior management's role in the Rajasthan mis-selling, in which case the board's decision to promote Bakhshi will be discredited.
The question which ICICI Bank shareholders and the banking regulator should ask is whether such an individual, who has presided over massive mis-selling of life insurance, who initiated a false complaint against a whistle-blower, and who himself might be implicated along with other senior management in a criminal case under investigation, is 'fit and proper' to be a Chief Operating Officer of a bank. Then again, neither ethical considerations, nor the fear of the firm's image being tarnished in public, seem to have bothered the ICICI Bank board till now.
DISCLOSURE & CERTIFICATION
I, Hemindra Hazari, am a registered Research Analyst with the Securities and Exchange Board of India (Registration No. INH000000594) I have a position in ICICI Bank but no position in ICICI Prudential Life referenced in this Insight. Views expressed in this Insight accurately reflect my personal opinion about the referenced securities and issuers and/or other subject matter as appropriate. This Insight does not contain and is not based on any non-public, material information. To the best of my knowledge, the views expressed in this Insight comply with Indian law as well as applicable law in the country from which it is posted. I have not been commissioned to write this Insight or hold any specific opinion on the securities referenced therein. This Insight is for informational purposes only and is not intended to provide financial, investment or other professional advice. It should not be construed as an offer to sell, a solicitation of an offer to buy, or a recommendation for any security.