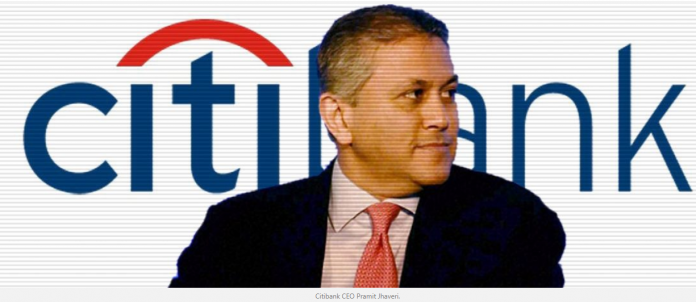 On January 11, 2019, the Reserve Bank of India (RBI) issued a press release informing the public that "by an order dated January 4, 2019 [the RBI] imposed a monetary penalty of Rs 30 million on Citibank NA India (the bank) for deficiencies in compliance with the RBI instructions on 'Fit and Proper' criteria for directors of banks."
While the business media dutifully reported the banking regulator's penalty on Citibank, none of the many specialised banking reporters in the print, TV and digital media demonstrated any curiosity in further investigating why the RBI had penalised such a prominent and large global bank. But then again, this is what the public has come to expect from the compromised business media, which never fail to report the most mundane and trivial business news released by large banks, but steadfastly refuse to probe any major irregularity, even when it stares at them in their faces.
Had the business media bothered to probe the issue which they conveniently ignored, they would have unearthed the serious implications of the penalty. As per Citibank's financials, which are available for public viewing on the bank's website, the financial accounts of its Indian branches are signed by only 3 individuals: the auditor, the chief executive officer (CEO) and the chief financial officer. The CEO is the only director on Citibank, India unlike government and private sector banks in India, which have other executive directors as well as non-executive directors. Hence the penalty by the RBI on Citibank pertains to non-compliance by Pramit Jhaveri, the Citibank India CEO, who has been with the bank since 1987, and has been its CEO since March 29, 2010.
A questionnaire sent to Citibank, India to confirm whether the penalty pertained to Pramit Jhaveri's personal investments, which may have violated RBI's 'Fit and Proper' Criteria for Directors on the Boards of Banks has to date, despite reminders, remained unanswered. The gravity of a violation of the 'Fit and Proper' Criteria for the CEO of a prominent global bank pertaining to non-compliance regarding business interests is severe. Section 10B(4) of the Banking Regulation Act, 1949 (BRA) states that the CEO of a bank can be disqualified if the individual has substantial business interests in another firm and is a partner/director (with some exceptions) in an activity engaged in any trade, business or industry. Section 20 of the BRA also imposes restrictions pertaining to loans provided to bank directors.
Why did Citi sleep?
What is even more unusual is how Citibank India's own compliance department ignored such a critical issue, as in most global banks, all managerial personnel have to disclose not only their investments and business interests, but also those of the individuals whose investments they control and/or manage, in their monthly personnel investment policy disclosures. This is all the more important for individuals who manage the bank's corporate and treasury relationships. That a prominent foreign bank's CEO can be found by the regulator to be deficient in compliance of 'Fit and Proper' Criteria reflects poorly on Citibank's compliance culture, which should have flagged the issue at an early stage, instead of the bank being hauled up by the regulator. Citibank India has also declined to respond to this writer on how its compliance department failed to detect the issue unearthed by the RBI.
By fining Citibank, India a mere Rs 30 mn, instead of a possible disqualification of its CEO, the RBI has again demonstrated its policy of a 'light tap on the wrists' when dealing with powerful banks which have been found guilty of violations under Indian law. Pertinently, the wording of RBI's press release on the Citibank penalty has been kept deceptively vague, without any indication what the specific violation is, and that it may pertain to the bank's CEO. In contrast, when the regulator stringently fined Bandhan Bank on September 28, 2018, the bank disclosed the specific reasons for the same. The RBI penalties on Karur Vysya Bank and Bank of Maharashtra also clearly specified to the public the reason for the regulatory censure.
Citibank, India's operations in India are significant, with standalone net profits of Rs 34 bn in FY2018 even though it has only around 44 branches. As per Basel III disclosures, as on September 30, 2018, the consolidated entity has common equity tier 1 of Rs 231 bn and risk weighted assets of Rs 1,382 bn. As per the bank's website, in the year ended March 31, 2018, in India, the bank was ranked No. 1 in mergers and acquisitions and in equity capital markets. In India, the bank has 2.7 million credit cards and a "9% share in card spends (August 2018), and the highest spend per card amongst major retail issuers."
The large global banks' influence in host countries where they operate is far more significant than their normally limited physical presence in these economies. Indeed, Y.V. Reddy, (Governor, RBI September 2003 – September 2008) in his memoirs, Advice and Dissent – My Life in Public Service, (2017) gives a damning first-hand indictment of the disproportionate influence on India's economic policy by foreign banks, and of Citibank in particular. He narrates an incident when, as RBI governor, he was nominated to lead the Indian delegation in a meeting with the International Monetary Fund (IMF) and the World Bank in Washington D.C. in April 2004:
"Above all, I was shaken by my experience during the Fund-Bank (World Bank and International Monetary Fund) Spring meetings in Washington D.C. It was April 2004…In Washington, D.C., a senior official of Citibank called on me. He offered to provide assistance to the RBI in preparing guidelines for the entry of foreign banks. Elections have been ordered and a new government is yet to take a position on this matter, I informed him. He asserted that Citibank was confident of ensuring the implementation of the policy, whichever government came to power. I was taken aback. 'Whichever government comes to power': to me, such an assertion indicated the influence that the global financial conglomerates could exercise over the political and decision-making processes in our country. I resolved that we simply could not afford it." p. 361
Addressing a gathering of central bank governors in Basel in June 2012, Y.V. Reddy cautioned the audience,
"In the prevailing environment of global financial markets, some large global financial conglomerates are larger and, perhaps, more powerful than some of the central banks." p. 301
RBI's mild and ambiguous rebuke of Citibank, India is to be noted in the context of Y.V. Reddy's own first-hand experience as the governor of India's central bank.