EXECUTIVE SUMMARY. In a bizarre episode which raises critical questions regarding basic norms of corporate governance, Sandeep Parekh, independent director of HDFC Bank, took to Twitter to publicly comment on the succession issue of the HDFC Bank CEO. Parekh, a corporate lawyer and former Securities and Exchange Board of India (SEBI) official, occupies important posts in the Bank as member of the Bank's Nominations and Remuneration Committee as well as its Search Committee. Parekh began by publicly challenging on Twitter the facts of a Reuters article, as well as this writer's opinion based on that article, which highlighted dissent within HDFC Bank regarding CEO succession. When this writer, as an individual shareholder of HDFC Bank, addressed questions to Shyamala Gopinath, Chairperson, and Santosh Haldankar, Company Secretary, HDFC Bank, regarding the propriety of Parekh's HDFC Bank-related tweets, Parekh made false and defamatory accusations of "securities fraud" against this writer in his further tweets. Significantly, Parekh quoted verbatim on Twitter from official correspondence sent by this writer only to the Chairperson and the Company Secretary of HDFC Bank. The latter had obviously passed on the same to Parekh, whose actions they later disowned.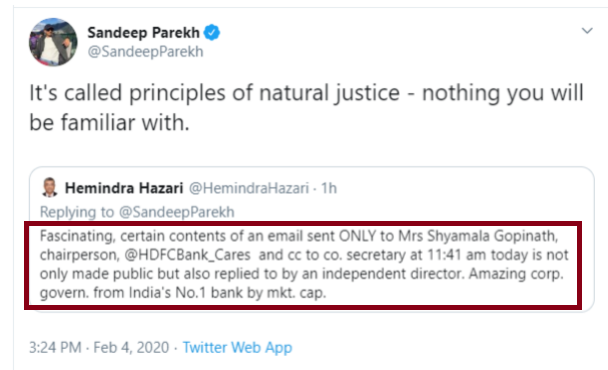 The Reserve Bank of India, following the Dr Ganguly Group recommendations in June 2002, has stipulated that all independent Bank Directors sign a "Deed of Covenants". Parekh's actions raise questions as to whether he breached condition 17 in his Letter of Appointment as HDFC Bank independent director, which prohibits the disclosure of confidential information as well as the making of statements without the clearance of the board. When queried, HDFC Bank replied to this writer that Sandeep Parekh was tweeting in his personal capacity, but did not clarify whether the board had given him prior approval to do so, or whether his conduct was in conformity with the "Deed of Covenants" and condition 17 of his Letter of Appointment.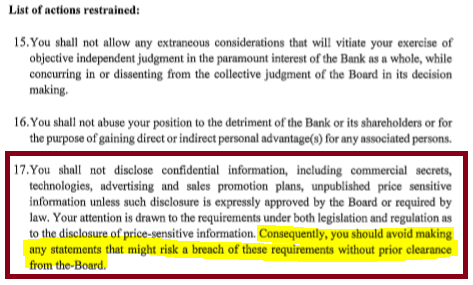 That a major bank in the capital market can permit its independent directors to publicly comment on official issues, and defame shareholders who pose queries to the board, raises important concerns regarding corporate governance, and has dangerous implications for the market. HDFC Bank forwarded official correspondence to an independent director, who in turn publicized it, while the bank abdicated all responsibility for the same by describing the "independent" director's actions as "personal", and beyond the control of the bank. The entire episode also raises serious questions regarding the role of "independent directors", and the roles in which the bank chooses to deploy them.
DISCLOSURE & CERTIFICATION
I, Hemindra Hazari, am a registered Research Analyst with the Securities and Exchange Board of India (Registration No. INH000000594) I own 10 HDFC Bank equity shares. Views expressed in this Insight accurately reflect my personal opinion about the referenced securities and issuers and/or other subject matter as appropriate. This Insight does not contain and is not based on any nonpublic, material information. To the best of my knowledge, the views expressed in this Insight comply with Indian law as well as applicable law in the country from which it is posted. I have not been commissioned to write this Insight or hold any specific opinion on the securities referenced therein. This Insight is for informational purposes only and is not intended to provide financial, investment or other professional advice. It should not be construed as an offer to sell, a solicitation of an offer to buy, or a recommendation for any security.