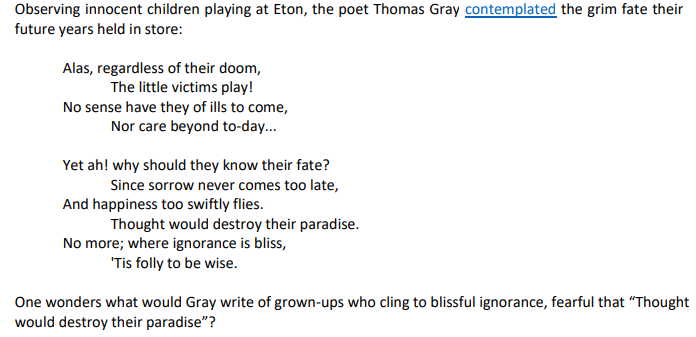 EXECUTIVE SUMMARY. When an anonymous whistleblower tweets on malpractices at India's most valuable bank, and provides authentic information to justify his claims, one would expect prominent banking journalists and independent directors of the bank to read his tweets. After verifying the details, they ought to bring these issues to the notice of the public and the board of directors. But that appears to be wishful thinking when it concerns large and prestigious companies. 'Madanlal Dahariya', the HDFC Bank whistleblower, realised this when Sandeep Parekh (independent director, HDFC Bank), Tamal Bandyopadhyay (Consulting Editor, Business Standard and author of two books on HDFC Bank)  and  Mayur Shetty (Senior Editor, Times of India) responded by blocking him on Twitter.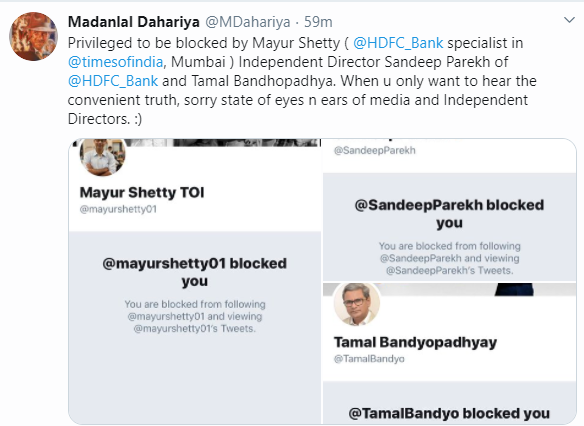 While individuals are free to exercise their judgment to block others on social media, one would imagine that independent directors, who represent the non-founder shareholder interests and monitor the executive management, should be minutely examining a whistleblower's allegations and internal correspondence of the bank that is being put in the public domain. One would equally expect this of journalists. In more than 25 years of this writer covering HDFC Bank, this is the first instance of a whistleblower going public and regularly blowing the whistle on serious malpractices at the bank. The fact that the Reserve Bank of India (RBI) has launched an investigation into irregularities in HDFC Bank's automobile loan division gives credibility to the revelations of the whistleblower. Yet journalists and an independent director who should be grateful that such information has become available responded by blocking their own access to the information.
Tamal Bandyopadhyay, responding to a query sent by this writer on why he had blocked the whistleblower on Twitter said,
"Why have I blocked Mr Madanlal Dhariya on Twitter? If I'm not mistaken, I have blocked you too.
I guess I have as much freedom to block any one on my Twitter as the reputed banking analysts and others have to raise questions on my integrity and speculate how compromised I am for writing two books on HDFC Bank.
Should I be interested in knowing what's happening in the bank? The insider story? Isn't that my prerogative and do I need to tell the world how I am tracking them?"
It is interesting to note that despite authoring two books on HDFC Bank, where he was apparently given unrestricted access to the senior management, Tamal Bandyopadhyay has declined to write on any of the whistleblower's major revelations.
What are we to conclude from the fact that the concerned journalists and independent director blocked the whistleblower? Apparently, the concerned journalists and Sandeep Parekh are aware of happenings inside the bank, but consider it to be trivial and unworthy of the interest of the public and the shareholders. Alternatively, they do not want to learn of any negative developments which could stain the image that they have of this bank. Sadly, the state of large corporate coverage is such that the latter view appears to be shared by most of the sell-side analysts that cover the bank. After all, "where ignorance is bliss, 'Tis folly to be wise".
DISCLOSURE
I, Hemindra Hazari, am a commentator on Indian banks, economy and the capital markets. Views expressed in this Insight accurately reflect my personal opinion about the referenced securities and issuers and/or other subject matter as appropriate. I own equity shares in HDFC Bank. This Insight does not contain and is not based on any non-public, material information. To the best of my knowledge, the views expressed in this Insight comply with Indian law as well as applicable law in the country from which it is posted. I have not been commissioned to write this Insight or hold any specific opinion on the securities referenced therein. This Insight is for informational purposes only and is not intended to provide financial, investment or other professional advice. It should not be construed as an offer to sell, a solicitation of an offer to buy, or a recommendation for any security.