EXECUTIVE SUMMARY: The default by the unlisted Altico Capital India (erstwhile Clearwater Capital Partners India Private Limited), a "Systemically Important Non-Bank Finance Company" owned by marquee foreign shareholders, is a resoundingly loud and clear warning to the capital market on the precarious state of NBFCs and the unreliability of financial accounts. It is shocking that an over-capitalised NBFC with loans of Rs 69 bn defaulted on a mere Rs 200 mn (US$ 2.8 mn) in interest, and that the chairman of India's largest bank attributes it to the "selfish" motives of a private sector bank. In reality, the problem is much deeper, and, as in the case of IL&FS, it is not an issue of liquidity but of solvency, and poor due diligence by market participants.
Once again the conduct of the board of directors stands exposed, as a default is not an overnight phenomenon. It is apparent that either Altico's strategy of concentrated lending to high-risk real estate developers had the board's full support or that they were ignorant of it. In either case it reveals mismanagement and the pathetic corporate governance, which appear to be the norm in private financial capital. Sanjay Grewal, the CEO has resigned but the board and senior executive management have to be restructured for such a dismal track record.
That the strategy of Altico was fast unravelling was indicated when PwC resigned as the company's auditor on August 12, followed by a credit downgrade to A+ from AA- and the abrupt resignation of Naina Lal Kidwai, the chairperson, on September 3.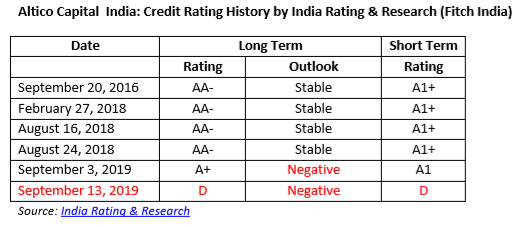 Here again the woefully  incompetent credit rating agencies (CRAs) have been caught napping, and not doing the thorough analysis that is expected from them. Apparently, as in the case of IL&FS, Altico's creditors were enamoured by the marquee shareholders of the company and falsely believed that they would come to the rescue of the company. The credit rating agencies released important data indicating the actual quality  of Altico's loans only when it was either too late or after the company's default.
As banks and mutual funds have lent public funds to Altico, the regulatory authorities, including the Serious Fraud Investigation Office, need to conduct a thorough investigation of this default and find out why its marquee shareholders are unwilling to bailout the company and the role of CRAs.