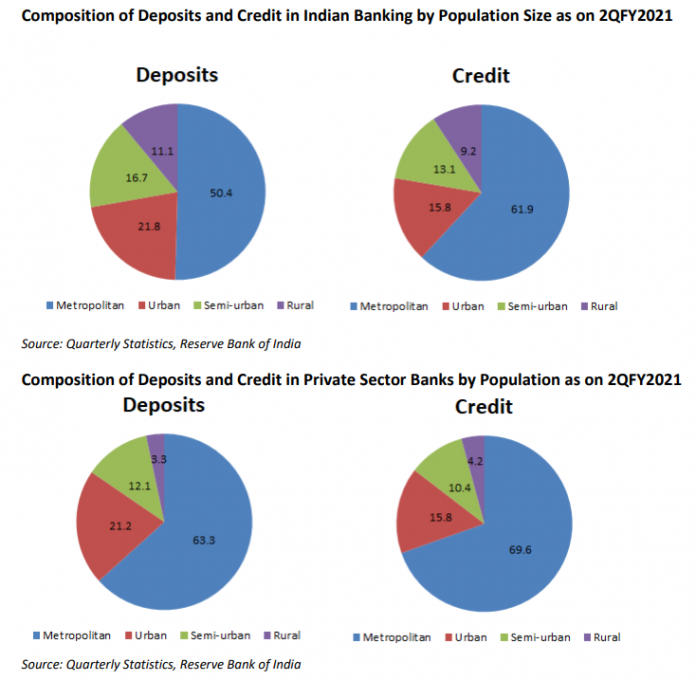 EXECUTIVE SUMMARY. In the last 7 1/2 years private sector  banks have increased their market share in overall deposits and credit in the industry. More importantly, in the critical metropolitan (population 1 mn+) areas, which account for the majority of banking business, their gains have been even higher. Government banks have borne the brunt of the loss in market share. This has been on account of their asset quality losses arising from a major feature of economic reforms, namely, the privatisation of infrastructure, funded primarily by government banks; the economic slowdown; and the failure of the government to adequately recapitalise its own banks, ostensibly for fiscal reasons.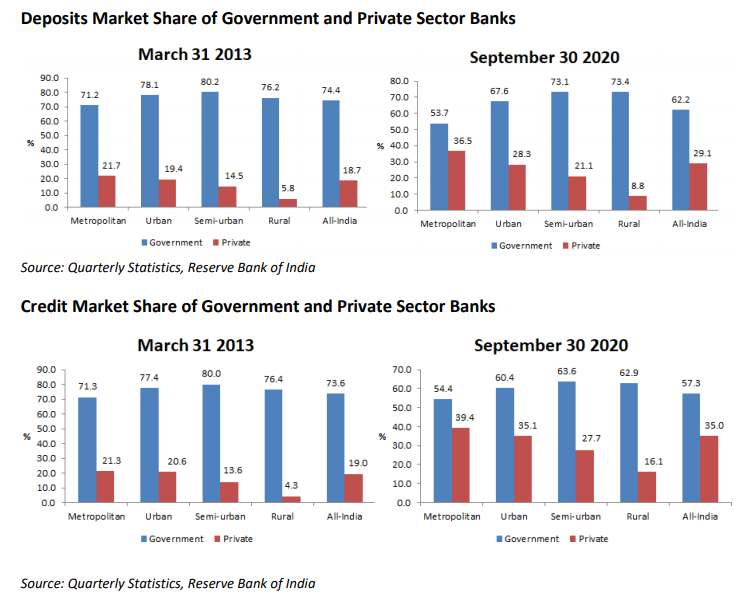 While many in the capital market may applaud the increase in market share of private sector banks as a positive development, and as a benign backdoor entry for the further privatisation of the banking sector, policy makers and the public should be aware of some critical aspects. Firstly, the majority of India's population resides in rural areas, and the overwhelming bulk of the business of private sector banks comes from metropolitan centres. The concentration of private sector banks in metropolitan centres is much higher than that of the overall banking industry, and correspondingly the private sector banks' rural business is much lower than the industry average. Allowing private sector banks to continue to increase their market share in concentrated areas may further widen the lopsided socio-economic development of India. Secondly, foreign ownership is prevalent in Indian private sector banks; in the 5 largest private sector banks by market capitalisation, foreigner ownership is nearly 60%.
Banking in any economy is a strategic industry, in which ownership is not only expected to be diversified, but also encouraged to be domestic. As domestic depositors are the largest stakeholders in Indian banks, it is imperative to check the influence of foreign owners over Indian banks. Foreign portfolio owners are naturally governed by their own interests, which may override domestic interests. While the Reserve Bank of India (RBI) has regulated banks to ensure diversification of ownership, and prevented foreign investors from owning more than a certain threshold of shares, and exercising control over a local bank, over time this could change.
In such a scenario it is unfortunate that the government ignores its own banks and provides an impetus to further privatise government banks. In a developing country like India, where the vast majority survive on low incomes, profitability cannot be the sole indicator to measure bank performance, but should be one of others focusing on a more balanced socio-economic development model. While the capital market and government may rejoice with the privatisation of Indian banking, there may be long term repercussions for Indian stakeholders.
DISCLOSURE
I, Hemindra Hazari, am a Securities and Exchange Board of India (SEBI) registered independent research analyst (Regd. No. INH000000594). I have equity investments in HDFC Bank and ICICI Bank. Views expressed in this Insight accurately reflect my personal opinion about the referenced securities and issuers and/or other subject matter as appropriate. This Insight does not contain and is not based on any non-public, material information. To the best of my knowledge, the views expressed in this Insight comply with Indian law as well as applicable law in the country from which it is posted. I have not been commissioned to write this Insight or hold any specific opinion on the securities referenced therein. This Insight is for informational purposes only and is not intended to provide financial, investment or other professional advice. It should not be construed as an offer to sell, a solicitation of an offer to buy, or a recommendation for any security.