EXECUTIVE SUMMARY. In the midst of Aditya Birla Sun Life Asset Management Company's (ABSL AMC) Initial Public Offering (IPO), prospective investors should be aware that the declining annual revenue in FY2021 disclosed in the Draft Red Herring Prospectus (DRHP) is on account of falling Average Assets Under Management (AAUM). Unfortunately, instead of directly providing the historical AAUM data, the company has disclosed other calculations of AUM which are misleading. On the one hand, the company's own disclosure shows that in FY2021, Closing AUM and Quarterly Average AUM (QAAUM) reported an increase (p. 144); on the other, in the DRHP, the company attributes the decline in revenue in FY2021 to the "decrease in total AAUM" (p. 284). The company's data directly contradicting its own statement can only confuse prospective investors.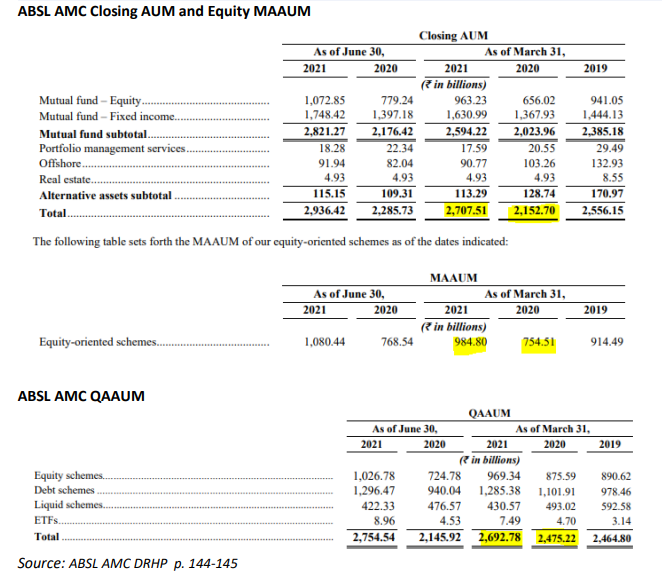 Responding to a query posed by this analyst, the company's official spokesperson stated, "Closing AUM, Monthly Average AUM (MAAUM) and Quarterly average AUM (QAAUM) are point in time details and therefore annual revenues are not dependent on these Key Performance indicators alone. The relevant Key Performance Indicator for annual revenue being Annual Average Aum (AAUM) is contextually [italics ours] disclosed in the MD&A on page 284 of RHP and as such there is no contradiction in the reason for fall in revenue as given in RHP."
The fact that the company has declined to directly disclose the AAUM in the DRHP clearly indicates that Closing AUM, MAAUM, AAQUM are unreliable and inflated, at least for FY2021. The non-disclosure of such a material and highly relevant indicator as AAUM should be noted by prospective investors and the Securities and Exchange Board of India (SEBI). This would not be a major worry if the AAUM had actually moved in the same direction as the AUM indicators ABSL actually provided; but given that AAUM moved in a direction contrary to the disclosed indicators, this amounts to misleading investors. That the lead managers to the issue (Kotak, Bank of America and Citi are the global coordinators, with other prominent investment banks as book runners) approved this misleading presentation in the DRHP speaks volumes of their commitment to investors. The disclosure of AAUM for ABSL AMC would have revealed an estimated fall of 3.2% in FY2021, and, combined with the disclosed fall in revenue,  may have impacted the pricing of the issue. No doubt the really persistent analyst can estimate the approximate value of the AAUM by some roundabout calculations, but is the DRHP really meant to be a puzzle book?
In any company, revenue is extremely important, and any decline in revenue should be a cause for significant concern. While the top 10 AMCs in India (T-10), including ABSL AMC, reported a decline in revenue in FY2020 on account of the Covid-19 pandemic, FY2021 was a bumper year for the industry – with the notable exception of ABSL AMC. Not only was ABSL AMC the only company in the T-10 to report a fall in revenue in FY2021, but, most worryingly, it was the only company in the Top-5 whose FY2021 revenue was even lower than FY2018 revenue.
ABSL AMC is a T-10 member (ranked 4th in terms of QAUM) which invests in financial securities. It is well aware of the importance of corporate disclosures and explanations given to investors. A company reporting a decline in its annual revenues while others in the same industry are reporting a rise would normally set alarm bells ringing, and the tolling would reach a crescendo when its explanation is contradicted by the data it has itself chosen to place in the public domain. Prospective investors in ABSL AMC should carefully consider whether investing in a company which reports a consistent decline in revenues, and deliberately fails to disclose a critical indicator, is a prudent investment.
DISCLOSURE
I, Hemindra Hazari, am a Securities and Exchange Board of India (SEBI) registered independent research analyst (Regd. No. INH000000594). I have no exposure to companies mentioned in this report. Views expressed in this Insight accurately reflect my personal opinion about the referenced securities and issuers and/or other subject matter as appropriate. This Insight does not contain and is not based on any non-public, material information. To the best of my knowledge, the views expressed in this Insight comply with Indian law as well as applicable law in the country from which it is posted. I have not been commissioned to write this Insight or hold any specific opinion on the securities referenced therein. This Insight is for informational purposes only and is not intended to provide financial, investment or other professional advice. It should not be construed as an offer to sell, a solicitation of an offer to buy, or a recommendation for any security.