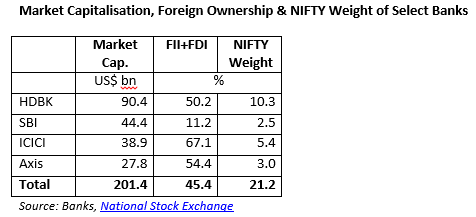 EXECUTIVE SUMMARY.
Problem: You are a leading sell-side analyst. What do you do when confronted with valuable, authoritative, and hitherto confidential information about India's leading banks?
A. Highlight it.
B. Analyse it and publish a research report on it.
C. Pretend it doesn't exist.
The correct answer, of course, is C. Pink slips for those who answered A or B.
Sell-side banking research covered itself in its usual glory when it decided to ignore the release of confidential Reserve Bank of India (RBI) inspection reports of prominent Indian banks. These reports covered the period from FY2013 till FY2015 for the State Bank of India (from FY2012), HDFC Bank, ICICI Bank and Axis Bank. The regulator had been compelled to release these reports to Girish Mittal through a Right of Information Act, 2005 (RTI) request, failing which it would have faced contempt of court before the Supreme Court of India.  Moneylife, a media outlet, uploaded all the reports for public discussion and debate. For the first time, confidential inspection reports of banks were made public through legal means, and analysts and the business media had an opportunity to analyse this treasure trove of information. In many cases these contradicted the management commentary on critical issues, and revealed how the banking supervisor evaluated these banks.
The RBI need not have worried about disclosing the reports. Living up to its nature, sell-side research decided it was best to pretend that these reports did not exist, and it did not cover or analyse the valuable information generated by the banking regulator.
This is a devastating commentary on the sell-side business model. Financials constitute 40% of the NIFTY, and all these 4 banks are included in this bellwether index, with foreign institutional investors having significant shareholdings in them. There are no less than 48 experienced, excessively paid banking analysts covering listed Indian banks. The notion that foreign institutional ownership in Indian companies will improve transparency, and that the presence of more sell-side firms (including most of the global majors) will result in greater rigour in critical analysis, has fallen by the wayside.
The sad truth is that corporate access is critical to the sell-side business model, and to ensure its smooth, uninterrupted flow, analysts are willing to turn a Nelson's Eye to critical information. This suits them, as their careers, like those of many in the business media, have been suckled on corporate access. Now they live in fear of their own shadows.