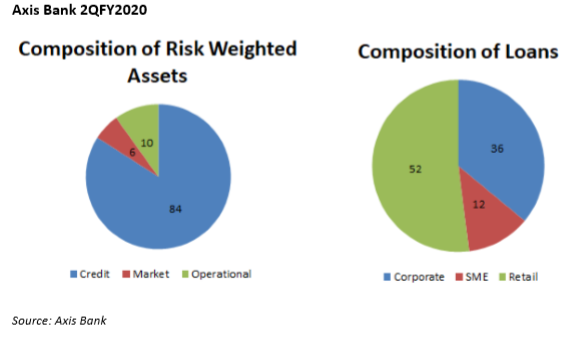 EXECUTIVE SUMMARY. Axis Bank recently diminished the authority of its Chief Risk Officer (CRO) by taking corporate credit risk assessment away from him and giving it to the Chief Credit Officer. Cyril Anand, President and Chief Risk Officer (CRO), Axis Bank, has been 'retired' early, and the bank has appointed Amit Talgeri as Executive Vice President (EVP) and CRO. The bank has also downgraded the CRO to an EVP from the earlier designation of president, a position also held by Bapi Munshi, Cyril Anand's predecessor. All these deliberate moves authorised by the Axis Bank board of directors will test the role of the CRO as envisaged by the banking regulator. If it were to be followed by other banks, it would hollow out and undermine the importance of risk management in the banking industry.
Axis Bank Core Management Team as on 25 April 2019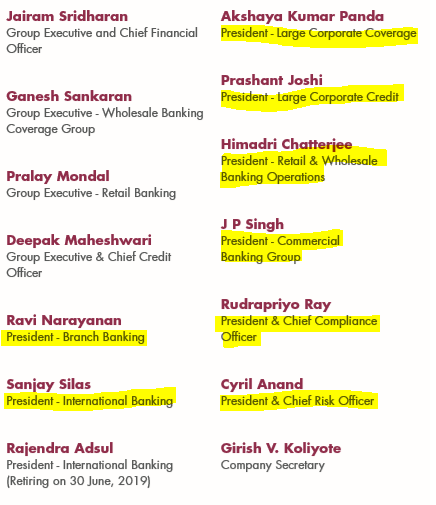 Source: Axis Bank FY2019 Annual Report
The appointment of Naveen Tahilyani as Group Executive Head – Banking Operations and Transformation to lead operations, technology, strategy and analytics also appears strange. He had served as the CEO of Tata AIA Life Insurance, a prominent insurance company at around the time Amitabh Chaudhry served as a CEO of HDFC Standard Life Insurance, and prior to Tahilyani's appointment in Axis Bank he was on a sabbatical. He will now report to the CEO of Axis Bank. His appointment will also sideline the role of two senior executives: Himadri Chatterjee, who was president retail and wholesale banking operations, and Rajesh Daheya, executive board director (to whom Chatterjee reported). It is apparent that the new inductions at the senior level are part of the senior management shake-up by Amitabh Chaudhry, but only time can tell whether they will achieve the management's goals or undermine the organisational structure and risk management in the bank.
Note: A questionnaire was sent to Axis Bank but the bank declined to respond.