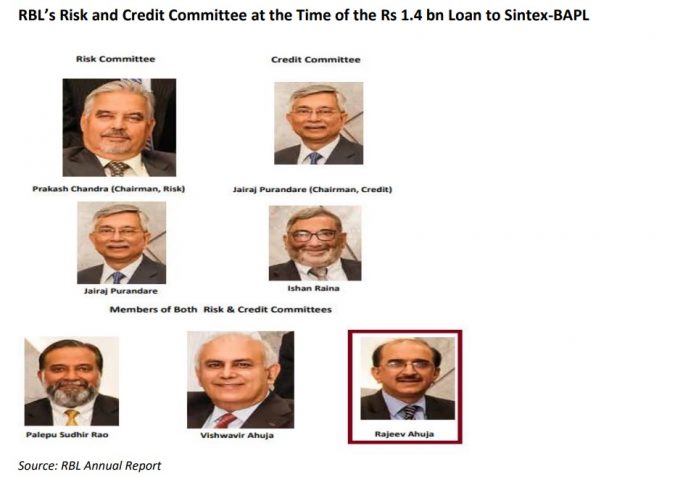 EXECUTIVE SUMMARY. The Mint newspaper broke a news story on February 15, 2022 exposing how, in June 2019, RBL Bank had disbursed a high-risk loan to Sintex-BAPL. Thereafter Sintex-BAPL lent the bulk of those funds to group company Sintex Industries which enabled it to repay a Rs 2.8 bn loan taken earlier from RBL Bank exposing the bank to an allegation of 'evergreening' whereby banks disburses fresh loans to repay older loans. Both Sintex companies are currently undergoing bankruptcy proceedings.
A major implication of the story is that it is unlikely that Rajeev Ahuja, the current acting Chief Executive Officer (CEO), will be selected as the permanent CEO and successor to Vishwavir Ahuja at RBL Bank. Indeed, it is not desirable. This may come as a surprise to the stock market, as analysts, after the December 26, 2021 conference call, were confident that Rajeev Ahuja's appointment as the permanent CEO would be a mere formality.
It is clear that Rajeev Ahuja is unsuitable as CEO of RBL Bank, or to belong to the senior management in any bank, as he was a member of the bank's Investment and Credit Committee, as well as the Risk Management Committee, which approved the Rs 1.4 bn loan to Sintex-BAPL on around June 11, 2019. It is highly unlikely that the then CEO, Vishwavir Ahuja, could have approved and disbursed the loan on his own.

Approving a loan to a company which has a total debt-equity of 10.5:1, and was already overdue on a loan to Deutsche Bank was either a case of extreme incompetence or 'evergreening'. In either case, senior executives responsible for approving the loan have no place in key decision-making posts or in the profession of banking. It also reflects extremely poorly on the independent directors in the credit and risk committees, especially on Prakash Chandra, the then and present chairman of the board, who was also chairman of the Risk Management Committee at the time of the Rs 1.4 bn loan. The fact that independent directors can endorse 'evergreening', or cannot comprehend basic corporate financial analysis, renders them unfit to be on any bank board.
This analyst sent a query to RBL Bank, but the bank declined to comment.
It is unlikely, and at any rate undesirable, that a top banker who clears such a blatant transgression should be rewarded with the post of CEO. RBL Bank shareholders should therefore expect the Search Committee appointed by the bank's board of directors to shortlist external candidates. The regulator must also investigate any other poor quality loans disbursed by the bank. An external CEO may disrupt the continuity the market was expecting.
DISCLOSURE
I, Hemindra Hazari, am a Securities and Exchange Board of India (SEBI) registered independent research analyst (Regd. No. INH000000594). I have no equity exposure to RBL Bank. Views expressed in this Insight accurately reflect my personal opinion about the referenced securities and issuers and/or other subject matter as appropriate. This Insight does not contain and is not based on any non-public, material information. To the best of my knowledge, the views expressed in this Insight comply with Indian law as well as applicable law in the country from which it is posted. I have not been commissioned to write this Insight or hold any specific opinion on the securities referenced therein. This Insight is for informational purposes only and is not intended to provide financial, investment or other professional advice. It should not be construed as an offer to sell, a solicitation of an offer to buy, or a recommendation for any security.