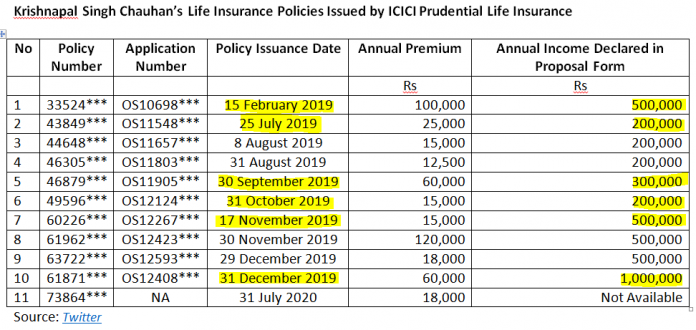 EXECUTIVE SUMMARY. Despite ICICI Prudential Life Insurance (IPru Life) reporting improvement in long-term persistency ratios, there are worrying examples of brazen mis-selling of life insurance policies by the company through its corporate agent, Angel Financial Advisors and even its parent, ICICI Bank. The cases of two 21-year old customers reveal the state of underwriting at IPru Life: Sachin Khilari (the first of three policies mis-sold to him commenced in October 2014) in Sangli district, Maharashtra and Krishnapal Singh Chauhan (who was sold his first policy in February 2019 and a further 10 in 12 months) in Banswara, Rajasthan, both highlighted by Insurance Angels. These cases illustrate the mis-selling of policies by violation of rules; non-compliance with anti-money laundering (AML) to determine source of funds of the policy holder; non-verification of income of customers; alleged forging  of the signatures of policy holders; inflating of policy holders' income on the forms; and the sale of multiple policies to an individual, where the collective premium exceeds the annual income of the policyholder.
Each customer in a financial services company has a unique customer id where her/his Know Your Customer (KYC) protocols, proof of individual income and financial products sold are mapped. When multiple policies are sold by an insurance company to a single individual, it would show up on the customer's profile. Prior to approving any further policies the underwriting team would examine whether the customer's income can service the insurance premiums, and approve the sale. What is extremely alarming in these mis-selling cases is that when additional policies were sold to both Khilari and Chauhan, where the collective annual premiums were more than their annual incomes, the underwriters were readily approving the policies without verifying their income. Such professional misconduct completely exposes the underwriting system at IPru Life. The Insurance Regulatory and Development Authority of India (IRDAI), the regulator, and stakeholders in the company need to critically evaluate how such cases are bypassing IPru Life's underwriting system.
With such poor underwriting and basic protocol systems it is no surprise that ICICI Bank, IPru Life's parent, has discontinued selling traditional life insurance policies for the last couple of years, even those of its subsidiary where senior ICICI Bank officials are deputed as CEOs. Anup Bagchi, executive director, ICICI Bank and non-executive director (nominated by ICICI Bank), ICICI Prudential Life Insurance, has gone on record on his apprehension that the low long-term persistency ratios in the industry could have an adverse impact on their own bank customers. That a parent company which has firm control on senior executive management at its subsidiary declines to sell the subsidiary's traditional life insurance products, as it cannot ensure near 100% long-term persistency ratio, speaks volume of IPru Life's capabilities.
It is time stakeholders and the regulator look beyond the neat and tidy persistency ratios and closely evaluate individual customer mis-selling complaints to understand how life insurance is actually mis-sold on the ground to unsuspecting customers and how underwriting is done by companies like IPru Life.
DISCLOSURE
I, Hemindra Hazari, am a Securities and Exchange Board of India (SEBI) registered independent research analyst (Regd. No. INH000000594). I own equity shares in ICICI Bank and HDFC Standard Life Insurance. Views expressed in this Insight accurately reflect my personal opinion about the referenced securities and issuers and/or other subject matter as appropriate. This Insight does not contain and is not based on any non-public, material information. To the best of my knowledge, the views expressed in this Insight comply with Indian law as well as applicable law in the country from which it is posted. I have not been commissioned to write this Insight or hold any specific opinion on the securities referenced therein. This Insight is for informational purposes only and is not intended to provide financial, investment or other professional advice. It should not be construed as an offer to sell, a solicitation of an offer to buy, or a recommendation for any security.