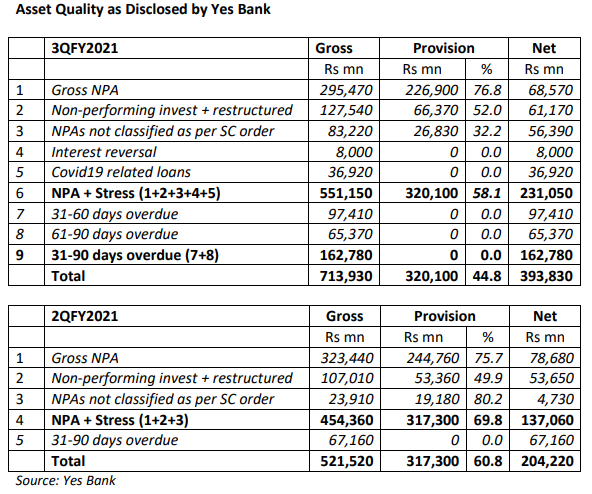 EXECUTIVE SUMMARY. A commendable feature in Yes Bank's 3QFY2021 results declared on January 22, 2021 was the continued level of transparency made available to investors on its asset quality, despite reporting the inevitable huge increase in stress loans. Around 30% of private sector banks loans were under the Covid-19-induced moratorium, 3QFY2021 is the first quarter in which the impact of the lockdown on asset quality will be visible. Yes Bank not only provided a detailed breakdown of its non-performing and stressed assets and the provisions made against them, but also reported its exposures not classified as non-performing on account of the Supreme Court order. Most importantly, it also continued to disclose its 30-60 days and 61-90 days overdue loans (first disclosed in 3QFY2020 presentation), and the capital market can take its call on providing estimates on the additional provisioning required.
No doubt, since its bailout, Yes Bank needs to reassure the market on its asset quality, transparency and the credibility of its accounts. These were all areas where this analyst had major reservations when the bank was led by Rana Kapoor, who is currently a guest of the state. Covid-19 and the stringent and ill-planned lockdown by the Indian government have ravaged the economy, and especially the informal sector, small and medium enterprises. Hence the asset quality of the banking sector is highly suspect. In such an environment, it is heartening to note that a bank which has just been provided a second life is confident to continue to disclose details on its asset quality, to reassure the market. In such times the banking industry would do well to follow the voluntary disclosures made by Yes Bank.
DISCLOSURE
I, Hemindra Hazari, am a Securities and Exchange Board of India (SEBI) registered independent research analyst (Regd. No. INH000000594). I have no exposure to Yes Bank securities. Yes Bank subscribes to this analyst's research. Views expressed in this Insight accurately reflect my personal opinion about the referenced securities and issuers and/or other subject matter as appropriate. This Insight does not contain and is not based on any non-public, material information. To the best of my knowledge, the views expressed in this Insight comply with Indian law as well as applicable law in the country from which it is posted. I have not been commissioned to write this Insight or hold any specific opinion on the securities referenced therein. This Insight is for informational purposes only and is not intended to provide financial, investment or other professional advice. It should not be construed as an offer to sell, a solicitation of an offer to buy, or a recommendation for any security.