EXECUTIVE SUMMARY. The capital markets continue to reward private sector banks with rich valuations, benefitting shareholders. But larger stakeholders such as bank customers are registering a steep increase in complaints to the banks' ombudsman. For the year July 1, 2019 to June 30, 2020, customer complaints (per branch and per 1,000 accounts) in the entire banking industry rose, but the complaint rate for private sector banks increased significantly, and remain higher than the industry. In FY2020 (July-June), while the disposal rate for complaints for the industry was 92.4%, it has been coming down from 96.5% in FY2018. It is likely that the Covid19 pandemic and the severe lockdown in India inconvenienced banking customers, resulting in a rise in industry complaints. It is also possible that since private sector banks are concentrated in urban India and have a younger customer age profile more familiar with digital operations their customers find it easier to file complaints digitally but nevertheless stakeholders should be concerned about the alarming rise in complaints for the much fancied private sector banks.  
It is unfortunate, though not surprising, that sell-side research regularly highlights the high CASA (current and saving account deposits), substantial fee income and other positive features of private sector banks, but steadfastly refuses to even acknowledge the growing customer complaints, which are a creditable documentation of customer dis-satisfaction with the banking services.
Since few customers are motivated and informed enough to register a complaint, such complaints are the tip of the iceberg of customer dissatisfaction. In banking, customers by number are much larger stakeholders than shareholders, and when customer complaints report not just a sharp increase but also a rising trend, it needs to be highlighted by the sell-side, business media, credit rating agencies and the banking regulator.
Customer dis-satisfaction at the private sector banks is a highly relevant issue as the general perception is that customer service is superior to the government banks which this data contradicts. Furthermore, if banks such as HDFC Bank and Kotak Mahindra Bank continue to report higher customer complaints and since the customer profile is common to all new private sector banks there is a concern that their customers can shift to other private sector banks offering better customer service.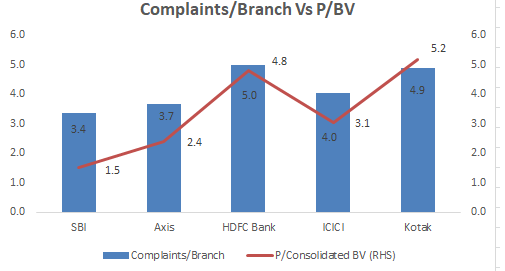 Pressure must be brought on senior management of banks to address this issue. Merely focusing on superior profitability enriching valuations, and ignoring the rise in customer complaints, can undermine any business model over the medium term, and shareholders need to take cognisance of such an important issue.
DISCLOSURE
I, Hemindra Hazari, am a Securities and Exchange Board of India (SEBI) registered independent research analyst (Regd. No. INH000000594). I own securities in some of the banks mentioned in this report. Views expressed in this Insight accurately reflect my personal opinion about the referenced securities and issuers and/or other subject matter as appropriate. This Insight does not contain and is not based on any non-public, material information. To the best of my knowledge, the views expressed in this Insight comply with Indian law as well as applicable law in the country from which it is posted. I have not been commissioned to write this Insight or hold any specific opinion on the securities referenced therein. This Insight is for informational purposes only and is not intended to provide financial, investment or other professional advice. It should not be construed as an offer to sell, a solicitation of an offer to buy, or a recommendation for any security.