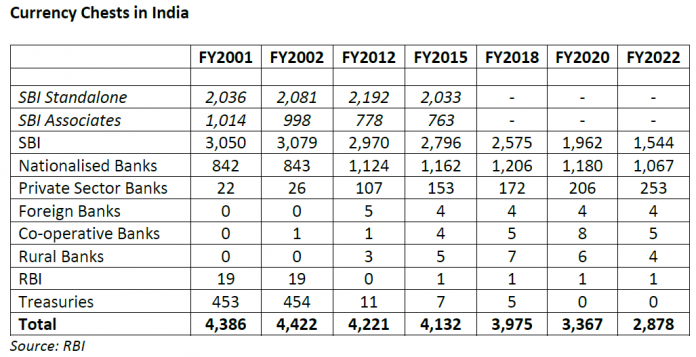 EXECUTIVE SUMMARY. On July 19, 2022, based on a police press release, the media reported (here and here) a major theft in the currency chest of the ICICI Bank branch in Dombivali (near Mumbai). Allegedly, an ICICI Bank employee, on the weekend of July 9- 10, 2022, robbed the bank of Rs 342 mn (US$ 4.3 mn), of which Rs 278 mn (US$ 3.5 mn) was subsequently recovered. The employee is currently absconding. A robbery in any bank branch is a major law and order issue, and a theft from a currency chest by an insider is an extremely rare and serious event raising concerns of poor controls and processes at ICICI Bank.
From the media reports (pertinently, ICICI Bank has not disclosed what occurred), it appears that a single ICICI Bank employee had access to the currency chest, and was in possession of both the keys of the currency chest. If this individual had individual access to the currency chest, it is a major security protocol violation.  It is extremely rare in India to have thefts from the currency chest (some instances are given here and here), on account of the construction and security protocols associated with currency chests. The ICICI Bank theft is the largest theft to have happened from a currency chest, and reflects extremely poorly on ICICI Bank. It defies explanation how a single individual could have access to the currency chest, as the 2 access keys have to be with 2 different employees (normally a cashier and an accountant).
The debit for ICICI Bank to make good on the theft will be nominal. However, the concern of reputational and operational risk should be noted by stakeholders, especially the RBI, which will now have to audit all the ICICI Bank currency chests to determine whether the lapse in protocol was an exception or the norm in the bank.
DISCLOSURE
I, Hemindra Hazari, am a Securities and Exchange Board of India (SEBI) registered independent research analyst (Regd. No. INH000000594). I own equity shares in SBI and ICICI Bank. Views expressed in this Insight accurately reflect my personal opinion about the referenced securities and issuers and/or other subject matter as appropriate. This Insight does not contain and is not based on any non-public, material information. To the best of my knowledge, the views expressed in this Insight comply with Indian law as well as applicable law in the country from which it is posted. I have not been commissioned to write this Insight or hold any specific opinion on the securities referenced therein. This Insight is for informational purposes only and is not intended to provide financial, investment or other professional advice. It should not be construed as an offer to sell, a solicitation of an offer to buy, or a recommendation for any security.