EXECUTIVE SUMMARY. While Axis Bank has recovered from its corporate non-performing asset (NPA) crisis, it seems to be in the midst of a management attrition problem, partly explained by significant sackings in FY2020. Staff turnover levels have been steadily rising in the period FY2018 – FY2020 (FY2021 data is not yet released). What is worrying is the attrition is across management strata, and covering all age groups. In our sample of banks (HDFC Bank, Axis Bank, Indusind Bank and Yes Bank) which disclose this data, only Yes Bank has worse attrition than Axis Bank, which is understandable given Yes Bank's precarious situation till FY2020.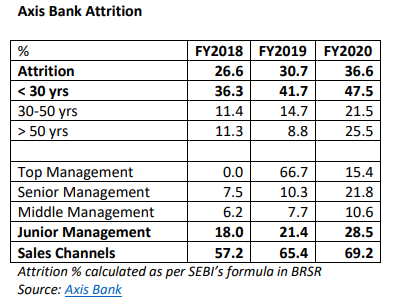 It is commendable of both Axis Bank and Yes Bank to have voluntarily provided detailed disclosure of attrition (unlike ICICI Bank and Kotak Mahindra Bank, which provided no disclosures in this regard), enabling a meaningful analysis. The consistent rise in attrition in Axis Bank is a serious human resource (HR) problem reflecting on the bank's board of directors. Responding to a query posed by this analyst on this subject, the bank has stated that it "does not comment on internal administrative matters". This analyst believes the high attrition can be attributed to (i) sackings, (ii) poor selection practices by the Human Resources division (responsibility of Rajesh Dahiya since June 2010) in identifying appropriate candidates (especially at the entry level of sales where attrition was a shocking 69% in FY2020), (iii) excessive pressure to meet over ambitious targets, (iv) difficult working conditions, (v) poor training and (vi) inadequate resources for its staff.
Axis Bank's FY2020 annual report maintains that "its employees remain the most critical drivers for growth and success" and are the "catalyst which builds talent". However, inexplicably, the board of directors have presided over large-scale staff attrition and allowed the attrition to keep rising. Amitabh Chaudhry took over as Chief Executive Officer (CEO), Axis Bank on January 1, 2019, and in the first week of April, 2019 media reports indicated significant forced removals. It is surprising that lower levels of management bore the brunt while senior executives closely associated with the previous CEO's strategy got away.

Banking is all about trust, and customers become uncomfortable when there is a constant churn of staff who service them. Nor is it healthy for any institution to have a high and consistently increasing attrition, which is a symptom of an underlying problem and signifies waste of expenditures incurred in hiring and training staff. It is also surprising that credit rating analysts have not red flagged this development. These issues can no longer be tucked away in some obscure corner in a company's website, but will have to be mandatorily included in company's annual reports from FY2023 as per SEBI's recent business responsibility social reporting (BRSR). By then one hopes the board of directors at Axis Bank would have woken up and addressed this critical issue.
DISCLOSURE
I, Hemindra Hazari, am a Securities and Exchange Board of India (SEBI) registered independent research analyst (Regd. No. INH000000594). I own equity shares in some of the banks mentioned in this report. Views expressed in this Insight accurately reflect my personal opinion about the referenced securities and issuers and/or other subject matter as appropriate. This Insight does not contain and is not based on any non-public, material information. To the best of my knowledge, the views expressed in this Insight comply with Indian law as well as applicable law in the country from which it is posted. I have not been commissioned to write this Insight or hold any specific opinion on the securities referenced therein. This Insight is for informational purposes only and is not intended to provide financial, investment or other professional advice. It should not be construed as an offer to sell, a solicitation of an offer to buy, or a recommendation for any security.