EXECUTIVE SUMMARY. When private bank stocks languish, or worse, spiral downwards, it is not just shareholders whose wealth erodes. Senior management executives, the elites in the private financial sector, also grievously suffer, as much of their personal wealth may be tied up in employee stock ownership plans (ESOPs).
When the exercise price of HDFC Bank's ESOPs was low, e.g for Plans XIX to XXXI and XXXIV, where the exercise price ranged from Rs 340 to Rs 1,045, the options were exercised and were in the money. But where the share price is close to the exercise price, and where it has already been exercised, senior executives may be feeling the pinch.
Most of the senior HDFC Bank executives who own shares on account of historic ESOPs at very low exercise prices may not be so concerned. While those HDFC Bank executives who acquired ESOPs of series XXXII, XXXIII and XXXV maybe feeling the pressure if they are still holding onto the shares, the plight of the senior executives of RBL Bank who exercised ESOPs in 2021 and 2022 may be even worse.
In FY2021, RBL Bank ESOPs had a range of exercise price of Rs 55 to Rs 680, and were exercised at a weighted average exercise of Rs 118.64. All those executives who exercised the ESOPs and did not sell the same would be facing losses, as the current market price is Rs 111.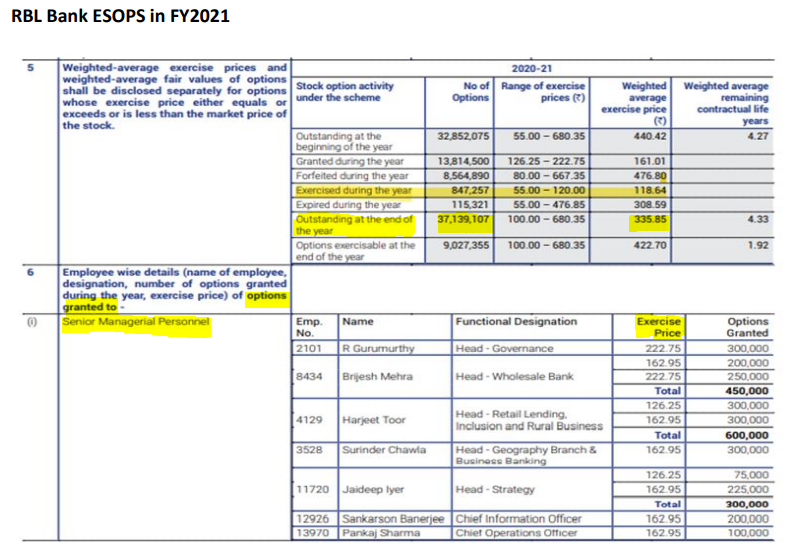 All the ESOPs granted to senior executives in RBL Bank and nearly all in Bandhan Bank in FY2021 are under water at current market prices.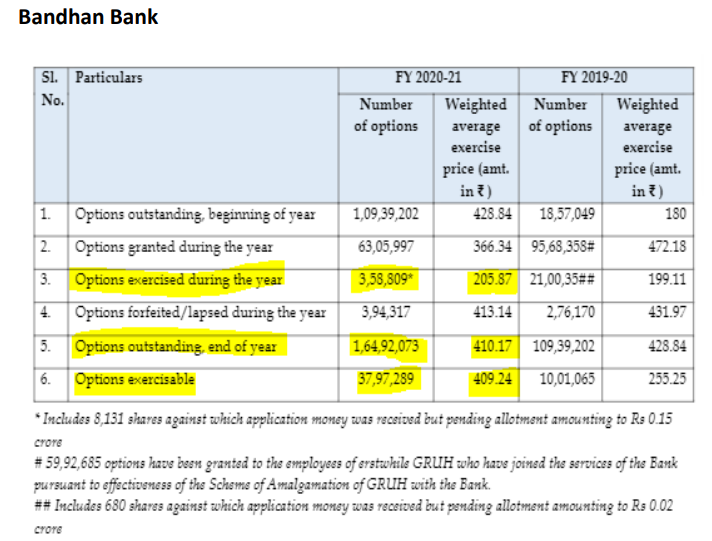 Since human capital is critical in the services industry and especially among its leadership, the distraction or departure of top management personnel can inflict heavy damage on the firm.
DISCLOSURE
I, Hemindra Hazari, am a Securities and Exchange Board of India (SEBI) registered independent research analyst (Regd. No. INH000000594). I own equity shares in HDFC Bank. Views expressed in this Insight accurately reflect my personal opinion about the referenced securities and issuers and/or other subject matter as appropriate. This Insight does not contain and is not based on any non-public, material information. To the best of my knowledge, the views expressed in this Insight comply with Indian law as well as applicable law in the country from which it is posted. I have not been commissioned to write this Insight or hold any specific opinion on the securities referenced therein. This Insight is for informational purposes only and is not intended to provide financial, investment or other professional advice. It should not be construed as an offer to sell, a solicitation of an offer to buy, or a recommendation for any security.