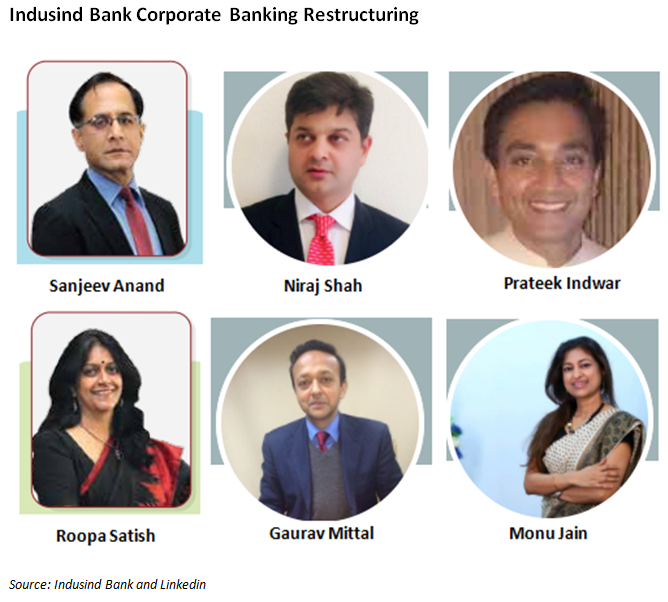 EXECUTIVE SUMMARY. Indusind Bank shareholders are paying a heavy price for senior executive-level reorganisation in Bharat Financial Inclusion (BFI), which backfired as disgruntled BFI seniors blew the whistle on alleged evergreening. Meanwhile the corporate division of the bank has being undergoing a similar drastic reorganisation.
For some years this analyst has been an outspoken critic of the gross incompetence of the bank's large corporate banking group under then CEO, Romesh Sobti, and its inability to comprehend basic credit risk management. Under Sumant Kathpalia, the current CEO, Roopa Satish, the long serving head of the large corporate and investment banking groups, has been finally divested of this major responsibility, and will now only look after corporate social responsibility (CSR) and sustainable banking. According to a media report, Gaurav Mittal, the earlier head of investment banking, has similarly been replaced by Prateek Indwar from SBI Caps. Further, certain seniors dealing with mid-sized companies have quietly left the bank, some under unusual circumstances.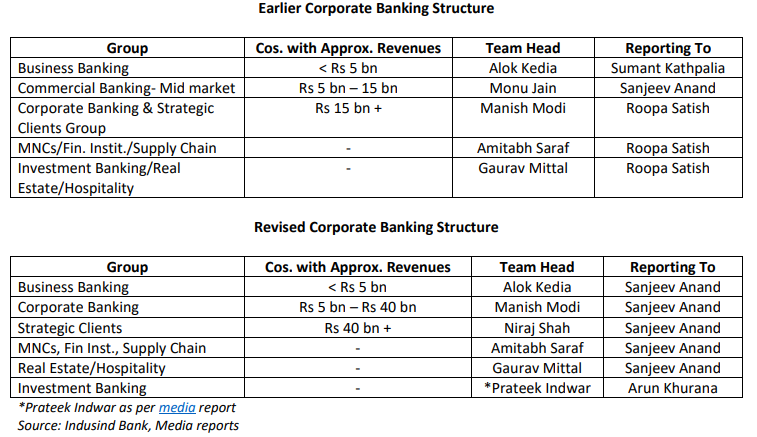 While the old guard in corporate banking have deservedly lost out, the fortunes of  Arun Khurana, the deputy CEO and a former contender (along with Roopa Satish) to succeed Sobti, have gained. Not only did Kathpalia elevate him to deputy CEO, but he was also rewarded by taking charge of investment banking, which earlier reported to Roopa Satish. Similarly, Sanjeev Anand has been given responsibility of the entire corporate banking vertical.
The cleaning up of the corporate banking stable is an extremely positive but belated development, and the possibility of poor quality high-risk lending will hopefully be remote. It is unfortunate that the bank continues to repose confidence in Ramaswamy Meyyappan, the Chief Risk Officer (CRO), who apparently approved a lot of the dodgy large corporate loans. The only concern is whether the ousted and disgruntled old guard will go quietly into oblivion, or being inspired by their peers in BFIL, reveal embarrassing details, further depressing the already bruised share price.
DISCLOSURE
I, Hemindra Hazari, am a Securities and Exchange Board of India (SEBI) registered independent research analyst (Regd. No. INH000000594). I own equity shares in Indusind Bank. Views expressed in this Insight accurately reflect my personal opinion about the referenced securities and issuers and/or other subject matter as appropriate. This Insight does not contain and is not based on any non-public, material information. To the best of my knowledge, the views expressed in this Insight comply with Indian law as well as applicable law in the country from which it is posted. I have not been commissioned to write this Insight or hold any specific opinion on the securities referenced therein. This Insight is for informational purposes only and is not intended to provide financial, investment or other professional advice. It should not be construed as an offer to sell, a solicitation of an offer to buy, or a recommendation for any security.