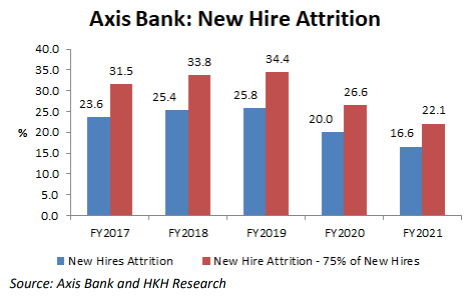 EXECUTIVE SUMMARY. A closer look at Axis Bank's staff data reveals the alarming mortality rate of new hires in the bank, and provides a glimpse of new hire attrition in the private banking industry in India. This appears to be a symptom of toxic work culture at the bank, where employees are evidently under intense pressure to meet targets or are incompatible for their roles. The rapid churn of employees can have a bearing on the bank's performance.
As Axis Bank's disclosed attrition and new hires data did not tally with the reported headcount disclosed by the bank, this analyst undertook an exercise to reconcile the data taking into account new hires who left within the same year. These were included in the reported attrition, but were excluded from the reported new hires, thus accounting for the apparent discrepancy in the figures. At HDFC Bank and Yes Bank, the other two private sector banks which voluntarily disclose attrition data (both however do not disclose new hire attrition), there was no such discrepancy.

In the last 5 years (FY2017-FY2021), new hire attrition (new hire attrition/new hires) at Axis Bank peaked at an estimated 25.8% (34.4% if we adjust for certain reasonable assumptions) in FY2019. This has declined to an estimated 16.6% (adjusted figure: 22.1%) in FY2021. Attrition in FY2021 may have declined for reasons related to the lock-down: for example, it may be that there was less pressure to meet targets in a work-from-home mode. (The absence of alternative job opportunities amid overall uncertainty may also have curbed attrition.) Since the lifting of the lockdown in FY2022, renewed work pressures are expected to lead to a rise in attrition. That more than a quarter of new hires during FY2017-20 were leaving within a year of joining reflects poorly on the human resource (HR) management at Axis Bank.
When loans turn non-performing within a year of disbursal, is taken as an indicator of poor credit underwriting and credit risk management, similarly early mortality in new hires may be a sign of substandard human resource selection and training, or of intolerable pressures on the job. On the basis of Axis Bank's disclosures of new hire attrition, its board of directors must determine whether the attrition is acceptable for its staff size. If the board does not intervene, a human resource issue can be a stumbling block in achieving the expectations of the capital market, as this analyst had earlier highlighted (here and here).  
 DISCLOSURE
I, Hemindra Hazari, am a Securities and Exchange Board of India (SEBI) registered independent research analyst (Regd. No. INH000000594). I own equity shares in Axis Bank, HDFC Bank, ICICI Bank, Yes Bank and Indusind Bank mentioned in this report. Views expressed in this Insight accurately reflect my personal opinion about the referenced securities and issuers and/or other subject matter as appropriate. This Insight does not contain and is not based on any non-public, material information. To the best of my knowledge, the views expressed in this Insight comply with Indian law as well as applicable law in the country from which it is posted. I have not been commissioned to write this Insight or hold any specific opinion on the securities referenced therein. This Insight is for informational purposes only and is not intended to provide financial, investment or other professional advice. It should not be construed as an offer to sell, a solicitation of an offer to buy, or a recommendation for any security.