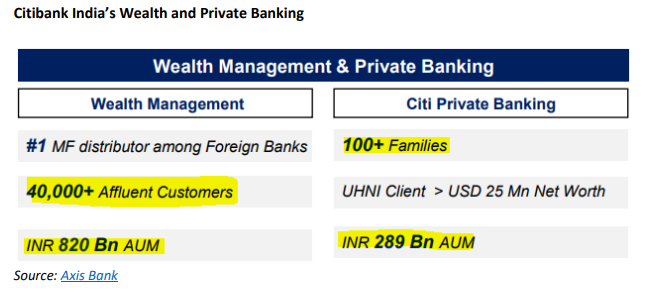 EXECUTIVE SUMMARY. Axis Bank's acquisition of Citibank India's consumer finance division has been applauded by the stock market, and the bank has outperformed Nifty-50 and the Bank Nifty since the announcement.

However, Axis Bank shareholders need to be more cautious about whether the acquisition will deliver the returns that the market is expecting. Competitors have not been waiting silently as mere bystanders, but have chalked out strategies to poach Citibank's premium customers.
Competitors who either did not bid or lost out in the acquisition are focusing on poaching Citibank's market share. Their strategy is 2-fold. One, directly trying to attract Citibank's customers to their own franchise. Second, poaching the important relationship managers (RMs) of affluent and private banking customers.

Although Citibank has premium credit card customers, the business has been in a secular decline – in March 2020 its market share of credit card spends was 6.2%, which declined to 4.1% by February 2022. Axis Bank has also been unable to majorly leverage its own credit card business during a time when the largest and other large players have been losing market share. Therefore, to expect the combined entity to significantly expand its market share at a time when the banking regulator has lifted sanctions on HDFC Bank is going to be extremely difficult.
SMS Sent to Axis Bank Customers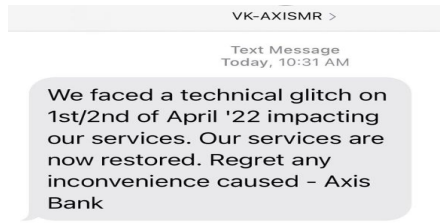 The stock market has rejoiced after the acquisition announcement, but Axis Bank shareholders must be aware that the Citibank retail customers are extremely affluent, and are used to superior service standards from a robust technology platform and a dedicated and well-paid staff. Unfortunately, Axis Bank's customer profile is different from Citibank's, its technology systems are less reliable and the toxic work culture at Axis Bank has impacted staff morale and customer service. The success of the acquisition will depend on the bulk of Citibank's premier customers being retained by Axis Bank and recent developments regarding the top-down work culture and technology do not inspire confidence.
DISCLOSURE
I, Hemindra Hazari, am a Securities and Exchange Board of India (SEBI) registered independent research analyst (Regd. No. INH000000594). I own equity shares in Axis Bank, HDFC Bank, ICICI Bank and SBI mentioned in this report. Views expressed in this Insight accurately reflect my personal opinion about the referenced securities and issuers and/or other subject matter as appropriate. This Insight does not contain and is not based on any non-public, material information. To the best of my knowledge, the views expressed in this Insight comply with Indian law as well as applicable law in the country from which it is posted. I have not been commissioned to write this Insight or hold any specific opinion on the securities referenced therein. This Insight is for informational purposes only and is not intended to provide financial, investment or other professional advice. It should not be construed as an offer to sell, a solicitation of an offer to buy, or a recommendation for any security.