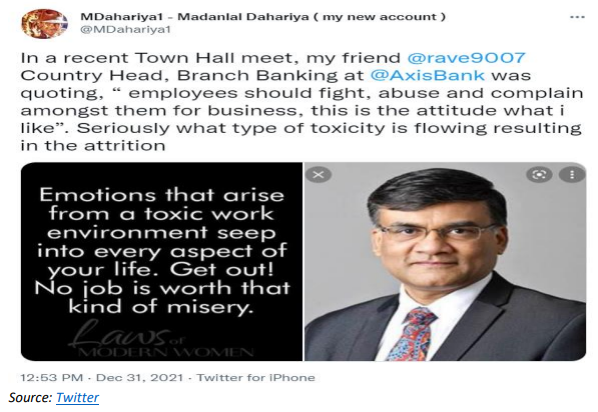 EXECUTIVE SUMMARY. The toxicity in Axis Bank's work culture which this analyst has been highlighting (here and here) was recently confirmed by Ravi Narayanan, Group Executive – in-charge of retail liabilities, branch banking and products. As disclosed  by 'Madanlal Dahariya', a pseudonym used by a bank whistle-blower on Twitter, Narayanan was conducting a town hall meeting of employees, where he is reported to have said:
"employees should fight, abuse and complain amongst them [sic] for business, this is the attitude what [sic] I like"
On making enquiries this analyst was informed that the town hall meeting took place on December 24, 2021, at Axis Bank's Ahmedabad branch, which is also its registered office. Narayanan was there to conduct the regular review of senior branch managers and cluster and circle heads in the Ahmedabad region. This analyst sent a query to Axis Bank requesting an explanation of his conduct. However, the bank has declined to comment and has not disputed the quotation.
That an individual holding such a senior executive post (one level below the board of directors), most likely hand-picked by Amitabh Chaudhry (CEO, Axis Bank), should make such an outlandish statement to the staff is an indication of the work culture for the staff in general.
Narayanan's appalling statement is a sign that the bank's human resources department (HRD) is irrelevant: no professional HRD would approve of such a brazen, dysfunctional policy in a bank which employs 78,307+ staff, mainly deployed in its 4,679+ branches.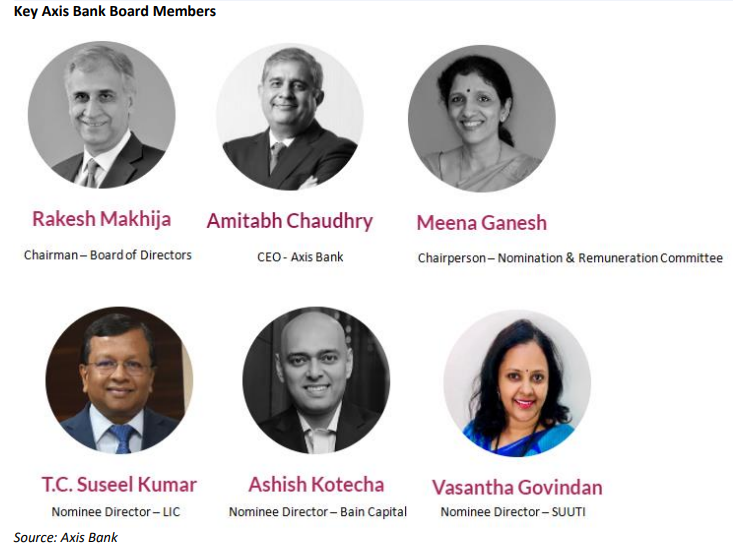 The Axis Bank board of directors, chaired by Rakesh Makhija, its nomination and remuneration committee, led by Meena Ganesh, and the nominee directors of Life Insurance Corporation of India, Bain Capital and Special Undertaking of the Unit Trust of India (SUUTI) are responsible for not intervening to rectify such conduct.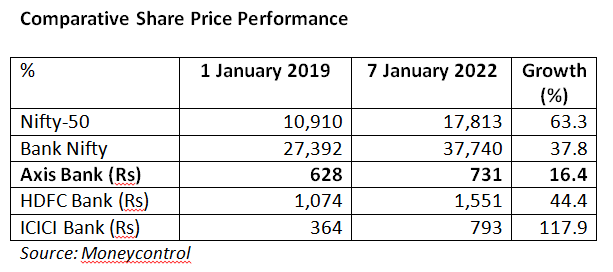 Despite Amitabh Chaudhry's subpar track record since taking charge as CEO, Axis Bank's board of directors appears to promote a toxic work culture among the bank staff, in which abuse, infighting and undermining fellow employees are the recipe for success. That the strategy to date has failed has apparently not deterred the top management from demanding more of the same, and not prevented the board from backing that top management. Shareholders, though, are not required to demonstrate the same patience, and can quit before the performance deteriorates.
DISCLOSURE
I, Hemindra Hazari, am a Securities and Exchange Board of India (SEBI) registered independent research analyst (Regd. No. INH000000594). I own equity shares in Axis Bank, ICICI Bank, HDFC Bank and Indusind Bank. Views expressed in this Insight accurately reflect my personal opinion about the referenced securities and issuers and/or other subject matter as appropriate. This Insight does not contain and is not based on any non-public, material information. To the best of my knowledge, the views expressed in this Insight comply with Indian law as well as applicable law in the country from which it is posted. I have not been commissioned to write this Insight or hold any specific opinion on the securities referenced therein. This Insight is for informational purposes only and is not intended to provide financial, investment or other professional advice. It should not be construed as an offer to sell, a solicitation of an offer to buy, or a recommendation for any security.