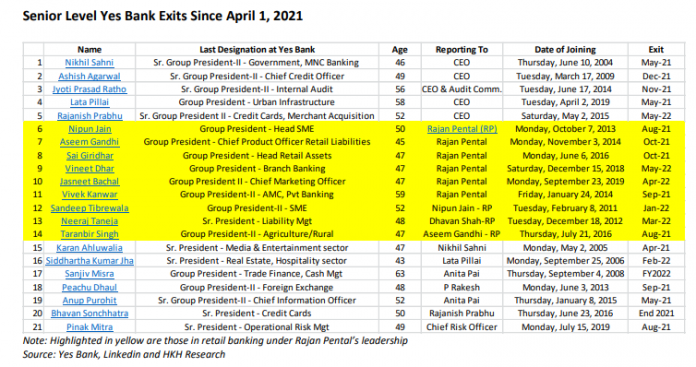 EXECUTIVE SUMMARY. Yes Bank is in the news for its non-performing assets, a legacy of erstwhile founder-CEO Rana Kapoor's reckless lending being transferred to an Asset Reconstruction Company (ARC). If and when the deal is announced, the balance sheet and the bank will be absolved of the sins of the past. While the market and the media's attention is focused on the purging of the toxic assets, a very different and critical asset, human capital, continues to silently exit via the back door.
Shareholders need to examine why senior executives are continuing to leave the bank in the second year of its rehabilitation, and in particular, why senior executives in the retail division, the self-declared future growth engine headed by Rajan Pental, are quitting.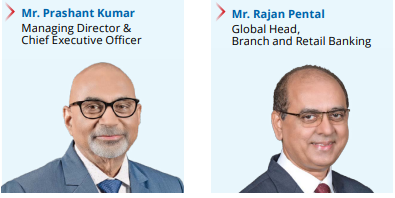 Out of the 21 senior executives who have quit since April 1, 2021, 5 were direct reportees to the CEO while 9 were from the retail division of which 6 reported directly to Rajan Pental. Apparently there is a human resources issue at the very top in Yes Bank, and at a crucial juncture when the market is expecting the bank's business model to fire on all cylinders. The high attrition would have been acceptable in FY2021, the first year of the reconstruction; that it persisted in FY2022 and early FY2023 is indicative of major inter-personnel issues involving executives in the highest echelons.
Another issue in this saga is the lack of transparency to stakeholders regarding the managerial exits. There have been no disclosures in the quarterly earning calls to analysts nor has there been any disclosure on attrition in the FY2022 annual report. Pertinently, Yes Bank's annual reports from FY2016 till FY2021 disclosed the attrition rate.
Responding to a query from this analyst, Yes Bank stated that the attrition data will be disclosed in the forthcoming Sustainability report in July 2022 and that in the banking industry attrition was elevated in the first half of FY2022. The bank stated that since more than 70% of its overall headcount pertains to Retail, the number of senior exits there, are not seen to be disproportionately higher.
When attrition especially at the senior levels remains high, it is a symptom of an underlying problem which needs to be urgently recognised and addressed by the board of directors. Even with a clean balance sheet a bank cannot perform when one of its key cylinders is mis-firing.
DISCLOSURE
I, Hemindra Hazari, am a Securities and Exchange Board of India (SEBI) registered independent research analyst (Regd. No. INH000000594). I own equity shares in Yes Bank, HDFC Bank and State Bank of India. Yes Bank subscribes to this analyst's research. Views expressed in this Insight accurately reflect my personal opinion about the referenced securities and issuers and/or other subject matter as appropriate. This Insight does not contain and is not based on any non-public, material information. To the best of my knowledge, the views expressed in this Insight comply with Indian law as well as applicable law in the country from which it is posted. I have not been commissioned to write this Insight or hold any specific opinion on the securities referenced therein. This Insight is for informational purposes only and is not intended to provide financial, investment or other professional advice. It should not be construed as an offer to sell, a solicitation of an offer to buy, or a recommendation for any security.