Customers of HDFC Bank, India's most valuable and one of the most expensive banks in the world have been hard hit in the ongoing demonetisation saga in India. Depositors of HDFC Bank have been complaining about their inability to withdraw the Reserve Bank of India's (RBI) stipulated cash withdrawal from their accounts. In the last week this writer, an HDFC Bank account holder has been unable to withdraw any cash from the branch. What is strange is that in other banks in the vicinity where this writer has accounts there is no such impediment and one can comfortably withdraw the stipulated amount. While the general customers of HDFC Bank have been undergoing severe hardships, select high-net worth customers and corporate salary account holders apparently have no such deprivation and therein lies a possible tale of the bank's ruthlessly efficient business model at a time of national distress.
Although this writer had been hearing tales of woe of HDFC Bank customers, the media and the 55 analysts covering HDFC Bank and tracked by Bloomberg (94.5% recommending Buy) are ignorant of the plight of the general HDFC Bank account-holders.
On Twitter, irate customers of HDFC Bank have tweeted their rage.
vir sanghvi Verified account @virsanghvi Dec 5
My local HDFC bank is not getting enough cash from RBI & is cash-dry. Hasn't it been long enough for the govt to have got its act together?
গুপ্তVerified account @KanchanGupta Dec 7
কাঞ্চন গুপ্ত Retweeted Rajeev Chandrasekhar
Deepak Parekh owes explanation why @HDFC_Bank ATMs and branches are dry. Where did the cash go? To whom? How? His bank failed miserably.
arshad @arshadkc Dec 4
No cash in HDFC bank. No cash in ATM. I sincerely hope there is something good about all this.
atul kasbekar Verified account @atulkasbekar Dec 2
Cannot understand how a bank of @HDFC_Bank size is struggling for two weeks with literally no cash. Deserves an investigation/ inquiry
While other HDFC Bank customers tweeted their satisfying experience.
Thaanu Mal Ayan @karthik_alagar Dec 6
@HDFC_Bank Appreciate the effort of Pune Magarpatta branch staffs for handling this crisis situational effectively. Thanks to the BM
🇮🇳 Anil SINGH 🇳 @anilusingh Dec 3
Got rqrd cash without any inconvenience. @HDFC_Bank thank you for the great service. Bank manager n staff attending almost all its customer
Souparno Satpati @soup_headsup Dec 2
Kudos to @HDFC_Bank !! For delivering service smoothly under pressure!!
To get a first-hand experience during December 5 – 13 (December 10-12 were bank holidays), a month since demonetization was announced, this writer set forth to tour the branches on Pedder Road and the adjacent Mahalaxmi temple area, a residential locality in south Mumbai. At Syndicate Bank, Axis Bank, Punjab National Bank, State Bank of India, IndusInd Bank, Dena Bank, Central Bank of India, Yes Bank, IDFC Bank and IDBI Bank savings (cheque) account holders and current account holders could comfortably withdraw their entitled Rs 24,000/account/week and Rs 50,000/account/week respectively. In some cases like SBI there was a long line but all customers were getting their mandated cash. However, the experience at HDFC Bank was completely different. The cash at its branch use to get over within 2 hours and they were unable to meet the cash demands of their customers.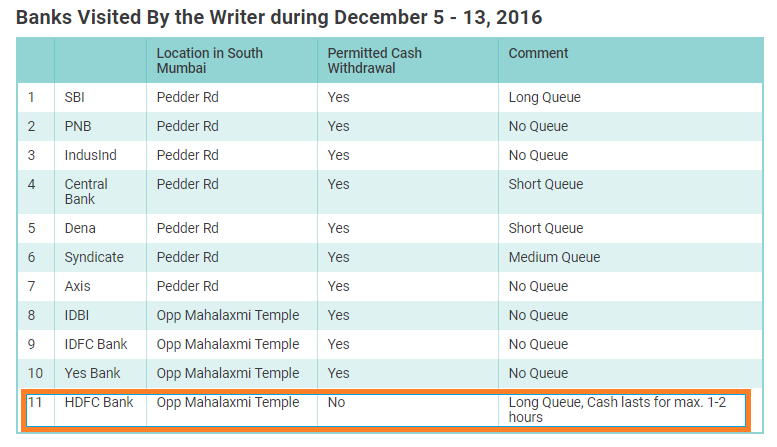 Some of my colleagues have had a mixed response at HDFC Bank in other locations in Mumbai, one stated that he could get cash from HDFC Bank branches in Marine Drive and Crawford Market in south Mumbai while another at his Versova branch in Mumbai said he had been able to withdraw Rs 10,000 twice in late November and since then he has been unable to get any cash. Interestingly, a high-networth, senior citizen (60+ years) customer of HDFC Bank said he had no problem of getting cash from the bank which was delivered to his home. The corporate salary accounts mainly handled by the large government and new private sector banks, with HDFC Bank being a prominent banker are not having any problems of getting cash to their employees. In such cases, the bank sends cash to the corporate offices where it is disbursed to the corporate employees.
In response to my queries, HDFC Bank officials acknowledge that they have a major cash problem in meeting the demands of their customers as the Reserve Bank of India (RBI) in disbursing the limited new currency notes has classified banks in various brackets with SBI at the top of the priority list. HDFC Bank has been included with other banks in the second bucket but apparently HDFC Bank's retail customer and product base is significantly higher than the other banks in the bucket and hence the cash that RBI gives to the bank is inadequate to meet the stipulated norms of cash withdrawal. HDFC Bank also categorically stated that they are not preferring their premium customers by prioritising the limited cash they receive. They explicitly stated that it would be a self-inflicted public relations disaster if they were to deliberately deny cash to their general customers.
It appears strange that a bank specialising in retail and customer satisfaction, a darling of the stock market and with a significant foreign share-holding is unable to meet the bare minimum cash withdrawals of its general customers. Other banks, especially the government banks are not only able to meet some of the cash requirements (below Rs 24,000/50,000/week/account) of their customers but are also regularly filling cash in their ATMs which can be used by the general public. Most private sector bank ATMs have been closed since the announcement of the demonetization.
While cash has been strictly rationed in the Indian economy, the police and income tax officials have been uncovering hoards of new notes when they raided offices and residences – till date Rs 1.75 bn (US$ 26.1mn) in new notes has been unearthed. These new notes could have only come from unscrupulous bank or post office employees or some banks as a strategy are catering to the needs of their premier customers at the cost to their general customers.
A former new private sector bank chief executive officer told this writer, "when banks find themselves in a rationing mode, they inevitably apply discretion." It is hence natural that in such difficult times, banks will protect their premium and profitable customers and go out of the way to cater to their needs to prevent these lucrative customers from taking their business to rival banks.
In India, HDFC Bank has perfected the art of acquiring premium and highly lucrative retail and corporate clientele (salary accounts) to garner deposits. The bank's private wealth management division is the envy of other new private and foreign banks who aspire to replicate the bank's strategy. Indeed, in the financial year (FY) ended, March 31, 2016, 20% of its retail customer base contribute 81% of its total retail deposits. In FY2014, the last year the bank disclosed retail clients by number, 14% (i.e. 3.86 mn accounts) of retail accounts contributed 77% of its retail deposits. Hence it is vital for HDFC Bank to actively service the 3.86 mn critical accounts and cater to all their needs.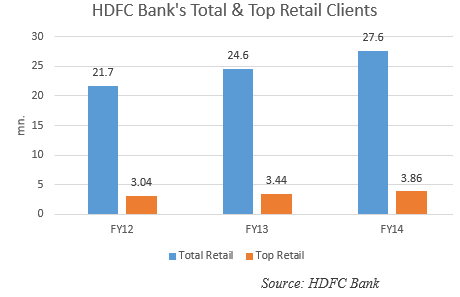 Over the years, HDFC Bank has acquired extremely wealthy non-corporate salary retail accounts who maintain very high savings (chequing) account balances. In FY2014, as compared with the average saving account balance in the industry of Rs 21,522, HDFC Bank's average retail savings account balance was Rs 52,657 and its non-corporate salary account savings balance was Rs 66,762. The data clearly indicates that HDFC Bank has a highly premium and much sought after top retail clients. At a time of distress, if HDFC Bank were to not fulfil the requirements of these premium accounts it could disrupt its entire business model which has been nurtured since the bank's inception and contributed to its immense stock market valuation.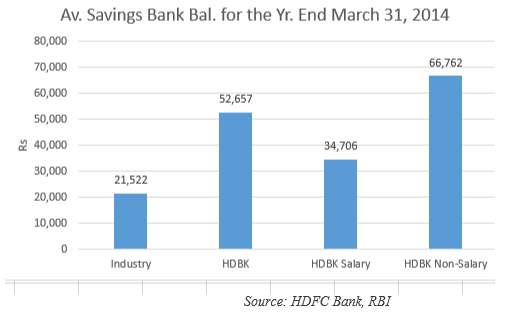 The response of HDFC Bank's officials to my queries implies that RBI is giving the bank far less new currency notes as compared with the other banks but discussion with government bank officials indicate that normally RBI is favourably inclined to the needs of the large new private banks and their CEOs enjoy an excellent rapport with senior RBI officials. The mystery can only be solved if the RBI releases daily data on the amount of new currency notes disbursed to individual banks at the various locations. Till date, RBI has declined to be transparent on this vital information.
In the present cash-starved environment, HDFC Bank could be a victim of its own success by having far more retail customers per branch as compared with the other Indian banks and the RBI's reluctance to provide it with sufficient cash to meet the requirements of its general customer base. In the alternative, it could be the bank's ruthlessly efficient business strategy to serve and protect its highly lucrative top retail client base at a time of national distress.
DISCLOSURE & CERTIFICATION
I, Hemindra Hazari, am a registered Research Analyst with the Securities and Exchange Board of India (Registration No. INH000000594) I have a position in HDFC Bank securities mentioned in this report. Views expressed in this Insight accurately reflect my personal opinion about the referenced securities and issuers and/or other subject matter as appropriate. This Insight does not contain and is not based on any non-public, material information. To the best of my knowledge, the views expressed in this Insight comply with Indian law as well as applicable law in the country from which it is posted. I have not been commissioned to write this Insight or hold any specific opinion on the securities referenced therein. This Insight is for informational purposes only and is not intended to provide financial, investment or other professional advice. It should not be construed as an offer to sell, a solicitation of an offer to buy, or a recommendation for any security.