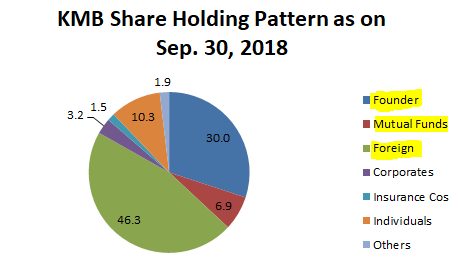 EXECUTIVE SUMMARY
The deadline (December 31, 2018) for Uday Kotak, the founder-CEO of Kotak Mahindra Bank (KMB), to dilute his stake to 20% has come and gone, and shareholders await the wrath of the banking regulator.
The regulator had already given an extended time line for the founders to reduce their stake, a relaxation not provided to other similar individual founders of private sector banks. When KMB realised that the regulator was no longer going to give another extension, the rebellious bank, in an unprecedented and reckless decision, took the regulator to court. The non-founder shareholders, who are in the majority, had been deprived of handsome gains which accrued to the founders by the share price increase and the extended time frame given to reduce founder shareholding, and now the bank is likely to be penalised for the founders' not complying with the regulatory stipulation. In a benevolent gesture, the banking regulator instead of invoking the relevant section specifically dealing with wilful non-disclosure to the regulator where the punishment can be imprisonment for senior management has instead invoked a far less stringent provision where the penalties can be monetary or non-monetary on the bank.
The business media and the sell-side do not appear concerned that the majority of KMB shareholders are being negatively impacted on account of actions of the founder. But such is the corporate governance practiced in KMB. (Ironically, Uday Kotak chaired the capital market regulator committee on corporate governance; today no one is ready to criticise Kotak's governance of his own bank.) The secular uptrend in the bank's share price to date may now hit a regulatory headwind, and investors need to exercise caution.