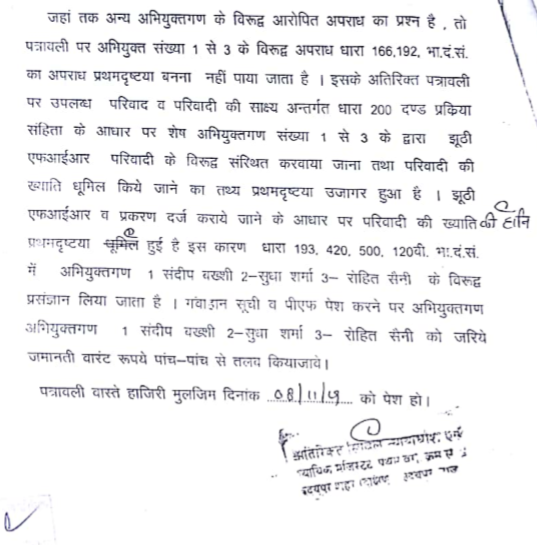 EXECUTIVE SUMMARY. On September 13, 2019, a court in Udaipur, Rajasthan took cognisance of charges and issued bailable warrants against Sandeep Bakhshi, Chief Executive Officer (CEO), ICICI Bank and other officials of ICICI Prudential Life Insurance (ICICI Pru Life) for criminal conduct under the Indian Penal Code, 1860 (IPC). The charges were cheating (Section 420), false evidence (Section 193), conspiracy (Section 120B), and defamation (Section 500). The warrant is issued to ensure the appearance of Bakhshi, along with the others charged, before the court on November 8.
These charges pertain to the action of Sandeep Bakhshi as CEO, ICICI Pru Life, in authorising a false criminal complaint against Nitin Balchandani, a former ICICI Pru Life employee and whistle blower who had exposed widespread mis-selling of life insurance by the company in Rajasthan. As a result of the false criminal complaint authorised by Bakhshi, Balchandani was in judicial custody for 30 days, until the Rajasthan High Court found him innocent of all the charges.
The police have already submitted a preliminary enquiry to the court wherein they have found sufficient ground to take cognisance of criminal offences against the ICICI Bank CEO in his erstwhile role as CEO, ICICI Pru Life, as well as other insurance officials.
It is unfortunate that matters had to reach such an embarrassing conclusion. Indeed the board should never have considered appointing Bakhshi as ICICI Bank CEO. This writer had argued against his appointment on account of this case and the related mis-selling of insurance in Rajasthan by ICICI Pru Life under Bakhshi's leadership.

In this writer's opinion, the court's order, and the underlying case, raise serious questions about whether Bakhshi is 'Fit and Proper' to continue as the CEO of ICICI Bank as per the regulatory norms. The matter should now rest with ICICI Bank's Nomination and Remuneration Committee (NRC) to recommend to the board whether Bakhshi should go on leave till the court delivers a verdict, or whether he should continue in office, like his disgraced predecessor (Chanda Kochhar clung on for an inordinately long time despite mounting public pressure for her to step down).
If ICICI Bank's NRC requests Bakhshi to either step down or go on leave, it will once again raise the critical issue of leadership. It is time the bank examined suitable candidates from outside, as two successive in-house CEOs stepping down on governance and integrity issues does not bode well for the bank.