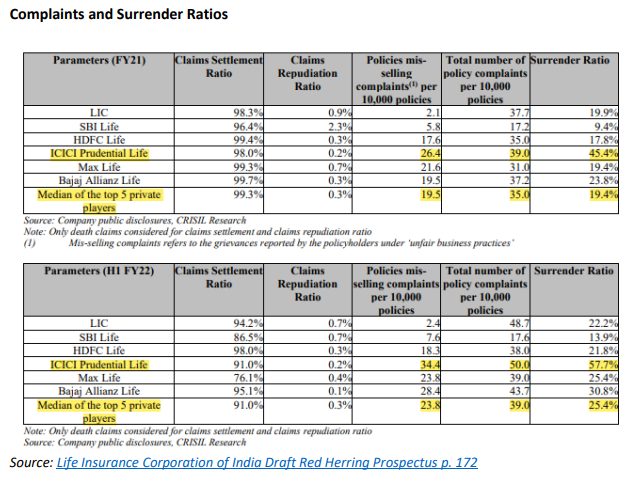 EXECUTIVE SUMMARY. Many cases of mis-selling by ICICI Prudential Life (IPru Life) have been highlighted by this analyst since 2018 (also here and here). The company has responded by highlighting the high and improving persistency ratios (proportion of business that is retained from the business underwritten, measured in terms of the number of policies and premiums underwritten) as compared with their peers.
"…we had an industry leading 13th month persistency ratio [number of policy holders who have paid their premium] of 87.1% up from 72.7% in FY2010. We also had one of the lowest grievance ratios of 46 as against 361 per 10,000 new retail policies sold in FY2011." (FY2021 annual report)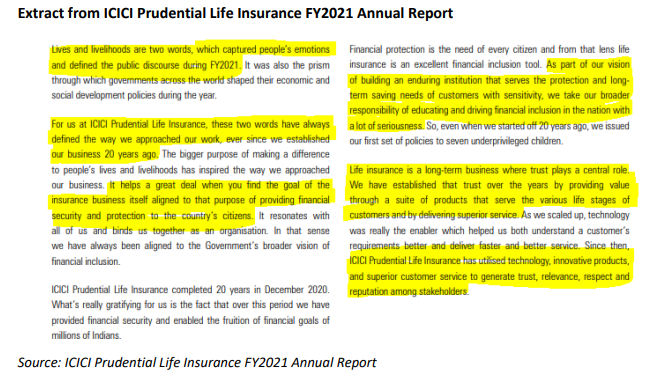 It may be true that IPru Life has industry-leading persistency ratios and one of the lowest grievance ratios in the industry. But the company is also the market leader (among the top 5 private sector life insurers and the Life Insurance Corporation of India (LIC)) in mis-selling, customer complaints (both as measured per 10,000 policies), and surrender ratio (total surrender amount divided by total investments during the year/period).
A possible explanation for such poor complaint and surrender ratios in IPrulife is the fallout of the Service to Sales (S2S) strategy implemented by the company in the past decade.
A questionnaire was sent to IPru Life but since the company is in the silent period it was unable to respond.
Insurance Regulatory and Development Authority of India (IRDAI) and IPru Life's board of directors remain either blissfully ignorant or unconcerned about the company's dubious status as the market leader in mis-selling and in surrender ratios. However, stakeholders need not share the regulator and the board's apathy, and can take the appropriate action.
DISCLOSURE
I, Hemindra Hazari, am a Securities and Exchange Board of India (SEBI) registered independent research analyst (Regd. No. INH000000594). I own equity shares in HDFC Life Insurance mentioned in this report. Views expressed in this Insight accurately reflect my personal opinion about the referenced securities and issuers and/or other subject matter as appropriate. This Insight does not contain and is not based on any non-public, material information. To the best of my knowledge, the views expressed in this Insight comply with Indian law as well as applicable law in the country from which it is posted. I have not been commissioned to write this Insight or hold any specific opinion on the securities referenced therein. This Insight is for informational purposes only and is not intended to provide financial, investment or other professional advice. It should not be construed as an offer to sell, a solicitation of an offer to buy, or a recommendation for any security.