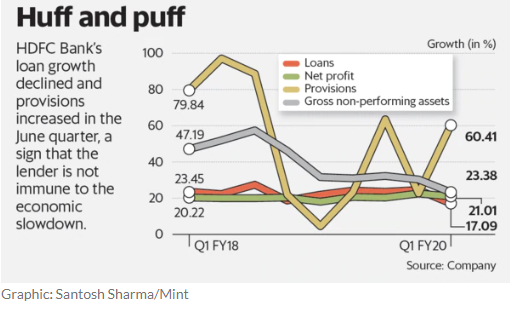 2 min read. Updated: 10 Oct 2019, 07:25 AM IST Aparna Iyer
Growth in overall loan book for the Sep quarter was 19%, higher than 17% of Jun quarter but lower than 22% a year ago
Investors have to realize that HDFC Bank is not immune to the broad-based slowdown, especially when a consumption slowdown is under way
There is no doubt that investors love HDFC Bank Ltd. The island of safety the stock offered during the past three volatile weeks is a reflection of the private sector lender's strong balance sheet.
Its exposures to major troubled assets are a shadow of its peers and it seems HDFC Bank made all the right decisions in lending. After all, its gross bad loans totalled just ₹11,769 crore as of June quarter. Its closest competitor in size, ICICI Bank Ltd has a bad loan stock nearly four times that of HDFC Bank even though its balance sheet is smaller.
Public sector banks of similar size fare worse on their asset quality metrics. According to Jefferies India Pvt. Ltd, HDFC Bank's exposure to high-risk stressed loans was just 0.9% of its FY19 net worth, the lowest among banks. To the several defaulting companies that have cropped up in the last three months, HDFC Bank has the lowest exposure among peer banks.
Ergo, the bank's valuations have only soared even after its stock is trading at a multiple of more than three times its estimated FY21 book value, deemed expensive by some analysts.
In all this, investors have to realize that HDFC Bank is not immune to the broad-based slowdown, especially when a consumption slowdown is under way. Indeed, the private sector lender's large retail portfolio is making it run countercyclical to the rest of the banking system.
The deep slowdown in the automobile sector is weighing down HDFC Bank's commercial vehicle loan growth. Even growth in unsecured personal loans have decelerated for the lender as of the June quarter. That said, the bank told the exchanges that its overall loan book grew a healthy 19% in the September quarter. That is higher than the 17% growth in the previous quarter but lower than the 22% growth a year ago.
But a bank can be profitable despite lack of growth if its operations are cost-efficient.
Hemindra Hazari, an independent research analyst, pointed out that the private sector bank has managed to give high return on assets to investors simply because it runs its shop efficiently and is able to keep a lid on operating costs.
"In the current faltering economy, the bank is unlikely to increase its net interest margin and its fees to compensate for the expected higher credit costs and if it is unable to continue with its earlier strategy, shareholders should expect a decline in its profitability," Hazari wrote in a note on research website Smartkarma.
Notwithstanding the pressure on its profitability, HDFC Bank in all likelihood may look better than its peers, which are still saddled with dud loans. But it sure is a duller version of its illustrious past.