EXECUTIVE SUMMARY. The Reserve Bank of India (RBI) has decided to approve extensions for Uday Kotak, the founder-CEO and Dipak Gupta, joint managing director (JTD), Kotak Mahindra Bank (KMB), for a further 3 years. This takes the CEO's tenure to 20 years, despite the regulator's earlier proposal to limit the tenure of the founder-CEO to 10 years. This is the latest instalment of the tale of a 17-year old KMB instructing the 85-year old RBI on regulation. The saga is one of the RBI giving a long rope to KMB for reducing the founder's stake, a relaxation not provided to other private sector banks; when the regulator finally insisted on compliance and accused the bank of "wilful non-disclosure of information" (which is a criminal offence under the Banking Regulation Act, 1949), KMB filed a case against the RBI and called its action, "wholly illegal, without the authority of law and unconstitutional." Such language used by a regulated entity to describe the conduct of the regulator revealed its disdain for the RBI and its cavalier attitude towards regulation.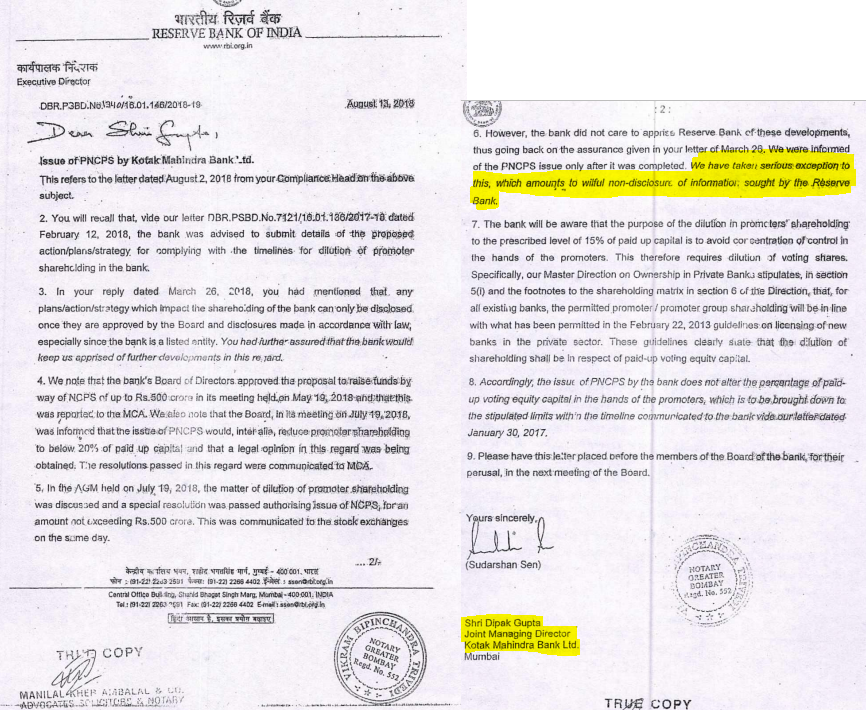 The RBI's decision in January 2020 to settle the case out of court on terms favourable to Uday Kotak, without any public explanation, undermined the regulator's credibility. However, in June 2020, the RBI proposed, in a discussion paper on corporate governance in private sector banks, to cap the tenure of founder-CEOs to 10 years and whole time directors (WTD) to 15 years. Some in the capital market, such as this analyst, felt that finally RBI was serious in prudently separating management from ownership in private sector banks and curtailing the influence of Uday Kotak, who remained as CEO when KMB received its banking license in 2003.
When the banking regulator in a court document not only accuses a bank of blatantly lying, of having dishonest intent, taking the regulator "for a ride" but also disrupting and undermining the regulatory systems of the regulator, it amounts to saying that the regulator believes that the bank under the existing management is a threat to the financial system. The RBI's approval to provide Uday Kotak with a further 3-year tenure as CEO is a public demonstration of how a private sector bank can effectively dictate its own terms to the banking regulator. The Indian public, its parliament, investors and global credit rating agencies should take note of RBI's conduct. When the RBI is incapable of enforcing its writ on an apparently influential individual private sector banker and his bank, how will it be able to regulate powerful industrial houses if they were to be allowed to set up banks?
DISCLOSURE
I, Hemindra Hazari, am a Securities and Exchange Board of India (SEBI) registered independent research analyst (Regd. No. INH000000594). I have no exposure to KMB securities. Views expressed in this Insight accurately reflect my personal opinion about the referenced securities and issuers and/or other subject matter as appropriate. This Insight does not contain and is not based on any non-public, material information. To the best of my knowledge, the views expressed in this Insight comply with Indian law as well as applicable law in the country from which it is posted. I have not been commissioned to write this Insight or hold any specific opinion on the securities referenced therein. This Insight is for informational purposes only and is not intended to provide financial, investment or other professional advice. It should not be construed as an offer to sell, a solicitation of an offer to buy, or a recommendation for any security.