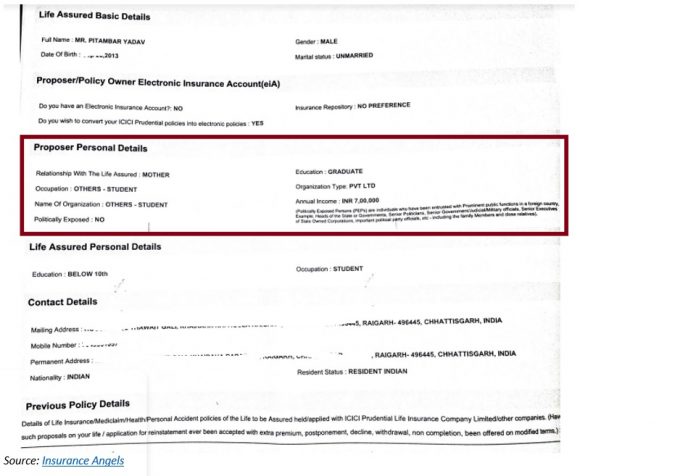 EXECUTIVE SUMMARY. In order to protect its customers from mis-selling, ICICI Bank ceased the selling of traditional par and non-par life insurance policies even from its subsidiary, ICICI Prudential Life Insurance (IPru Life). However, the bank continued to sell Unit Linked Insurance Policies (ULIPs). Sadly, feedback from ICICI Bank customers reveals that bank managers are not only continuing to mis-sell ULIPs through false documentation, but worse, IPru Life's underwriting is approving such policies. This is extremely worrisome for IPru Life's shareholders and ICICI Bank customers.
Insurance Angels, an organisation assisting customers who have been mis-sold insurance, has highlighted several cases of mis-selling of IPru Life's ULIP's by ICICI Bank. For the sake of brevity, we will be discussing only two in this article. What is alarming is the misleading documentation submitted by ICICI Bank officials to ensure policies are sold to individuals who do not qualify for insurance, and the sheer incompetence or complicity of IPru Life's underwriting in approving such policies. It is strange that while ICICI Bank publicly acknowledges the adverse impact of mis-selling traditional life insurance, it appears oblivious to the mis-selling of ULIPs to its customers.
In N. Yadav and Ramavati Yadav's cases, ICICI Bank staff felt no qualms in providing misleading information in the documents to qualify the customers for investing in ULIPs. In ICICI Bank there appears to be no bank official who verifies the information in the policy sold by the bank; nor does IPru Life bother to verify the basic information provided in the policy. The Insurance Regulatory and Development Authority of India (IRDAI) has issued guidelines whereby it is mandatory for insurance companies to undertake a detailed due diligence for policies where the annual premium exceeds Rs 100,000; it is also mandatory to verify income proofs of the customer to see whether the policyholder can afford the premiums.
This analyst sent a query to both ICICI Bank and IPru Life on the Yadav cases and how the insurance company's underwriting could have approved the policies which should have been rejected in a cursory examination. IPru Life responded by stating it is a "customer-centric organisation" with the "highest level" of regulatory and legal compliance and a "robust risk management" and it had already refunded the ULIPs with interest to the Yadavs. However it did not explain how the mis-selling of ULIPs to N. Yadav and Ramavati Yadav was approved by ICICI Bank managers, with the possible complicity of IPru Life's underwriting.
IPru Life shareholders and the regulatory authorities would know that the Yadav cases are just the instances that have come to light; it is unlikely that there are just a couple of cockroaches. Inevitably, many more lie hidden in the dark corners of the company, perhaps not even known to its senior management. But these cases have highlighted a huge concern regarding the integrity of ICICI Bank officials and the unprofessionalism and even complicity of IPru Life's underwriting.
DISCLOSURE
I, Hemindra Hazari, am a Securities and Exchange Board of India (SEBI) registered independent research analyst (Regd. No. INH000000594). I own equity shares in ICICI Bank mentioned in this report. Views expressed in this Insight accurately reflect my personal opinion about the referenced securities and issuers and/or other subject matter as appropriate. This Insight does not contain and is not based on any non-public, material information. To the best of my knowledge, the views expressed in this Insight comply with Indian law as well as applicable law in the country from which it is posted. I have not been commissioned to write this Insight or hold any specific opinion on the securities referenced therein. This Insight is for informational purposes only and is not intended to provide financial, investment or other professional advice. It should not be construed as an offer to sell, a solicitation of an offer to buy, or a recommendation for any security.