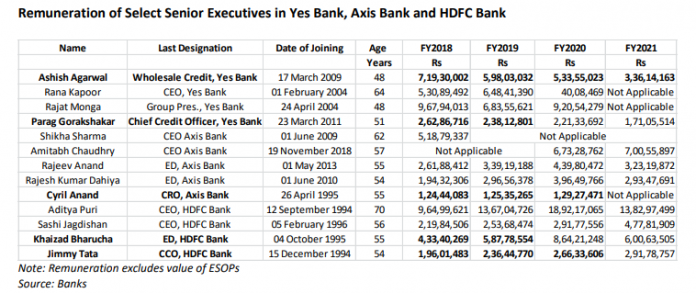 EXECUTIVE SUMMARY. Pay obscene remuneration to a favoured few, completely out of sync with the already inflated salary structure in the industry, silently watch as they bring the bank to near collapse – this was Yes Bank's policy for senior management. It is not surprising that this was done under the earlier founder-CEO, Rana Kapoor. The surprise is that some of the grossly overpaid mismanagers were gracefully allowed to continue in their posts under the new owners, the State Bank of India-led consortium, including prominent names in private financial capital. Ashish Agarwal, the current Head-Wholesale Banking and the former Chief Risk Officer (CRO), who was also in charge of corporate credit appraisal, earned a salary (including staggered bonus) of nearly Rs 72 mn in FY2018, significantly higher than peers who were managing much larger balance sheets. Agarwal, who played a critical role in appraising and approving dodgy credit, has been allowed by the new board of directors to continue (like some of his senior colleagues) on a reduced remuneration. It is shocking that the new consortium of owners, which includes ICICI Bank, HDFC, Axis Bank, Kotak Mahindra Bank, and others, continues to employ an individual with such a track record.
While Rana Kapoor, the erstwhile CEO, was the main culprit, extravagantly paid individuals like Ashish Agarwal made their own contributions to the downfall of the bank by failing to raise stringent objections, complain directly to the banking regulator or resign from the bank. The attractive financial package that such individuals were rewarded with by a servile Nominations and Remuneration Committee (NRC) compromised professionalism, and an incompetent/complicit Credit and Risk Management Committees failed in its oversight responsibilities.

Supposedly, the free market rewards superior performance and punishes non-performance, but this role of the free market appears to have bypassed Yes Bank and its new board of directors.
DISCLOSURE
I, Hemindra Hazari, am a Securities and Exchange Board of India (SEBI) registered independent research analyst (Regd. No. INH000000594). I own equity shares in all the banks (exception of Kotak Mahindra Bank) mentioned in this report. Yes Bank subscribes to this analyst's research. Views expressed in this Insight accurately reflect my personal opinion about the referenced securities and issuers and/or other subject matter as appropriate. This Insight does not contain and is not based on any non-public, material information. To the best of my knowledge, the views expressed in this Insight comply with Indian law as well as applicable law in the country from which it is posted. I have not been commissioned to write this Insight or hold any specific opinion on the securities referenced therein. This Insight is for informational purposes only and is not intended to provide financial, investment or other professional advice. It should not be construed as an offer to sell, a solicitation of an offer to buy, or a recommendation for any security.