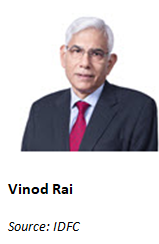 EXECUTIVE SUMMARY. The IDFC's board of directors' decision to reclassify Vinod Rai, hitherto independent director, as a non-independent non-executive director provides a backdoor entry for all those independent directors whom founders/promoters and executive management want to retain after the mandated two consecutive terms.
In the critical financial sector there is a reason why regulators stipulate maximum continuous tenures for auditors and independent directors. The purpose is to prevent excessive proximity to the promoters/executive management. It is surprising that not only does the IDFC board fail to comprehend this basic principle, but that Vinod Rai himself is willing to compromise his "independence" and stature to continue on the IDFC board on such terms.
It is equally surprising that the IDFC, which in its FY2021 annual report describes itself as being "renowned for exemplary governance", declined to inform the stock exchanges of Vinod Rai's resignation which is mandatory by Securities and Exchange Board of India (SEBI) Listing Obligations Disclosure Requirement (LODR) Regulations, 2015. While IDFC claims to practice "exemplary" governance standards, in reality it may not be conforming to the stipulated minimum.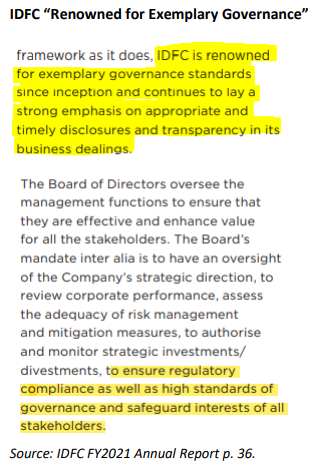 Apparently, for IDFC, the 73-year old Vinod Rai is indispensable, and he has to be retained on the board at all costs. Indeed, Rai's public pronouncement on the recent conference call suggests that he plays an executive role in the company.
There is no explicit legal requirement which prohibits a person from continuing on the board as a non-independent director after his/her mandated two consecutive terms as independent director. However, the underlying principle of independence would have required an independent director gracefully leave the board after the mandated two consecutive terms. That Vinod Rai is willing to continue as a non-independent director on IDFC, with the support of the executive, raises suspicions about the extent of his "independence" when he was an independent director from 2015 to May 2021 .
That a prominent company with significant institutional ownership declines to disclose the resignation of its independent director to the exchanges and seamlessly reclassifies its independent director as a non-executive non-independent director is an indication of poor standards of corporate governance. Far from being "exemplary", it has devised a method of subverting governance for all those companies who would want to continue with compromised independent directors after their mandated tenures as independent directors are over.
DISCLOSURE
I, Hemindra Hazari, am a Securities and Exchange Board of India (SEBI) registered independent research analyst (Regd. No. INH000000594). I own equity shares in IDFC. Views expressed in this Insight accurately reflect my personal opinion about the referenced securities and issuers and/or other subject matter as appropriate. This Insight does not contain and is not based on any non-public, material information. To the best of my knowledge, the views expressed in this Insight comply with Indian law as well as applicable law in the country from which it is posted. I have not been commissioned to write this Insight or hold any specific opinion on the securities referenced therein. This Insight is for informational purposes only and is not intended to provide financial, investment or other professional advice. It should not be construed as an offer to sell, a solicitation of an offer to buy, or a recommendation for any security