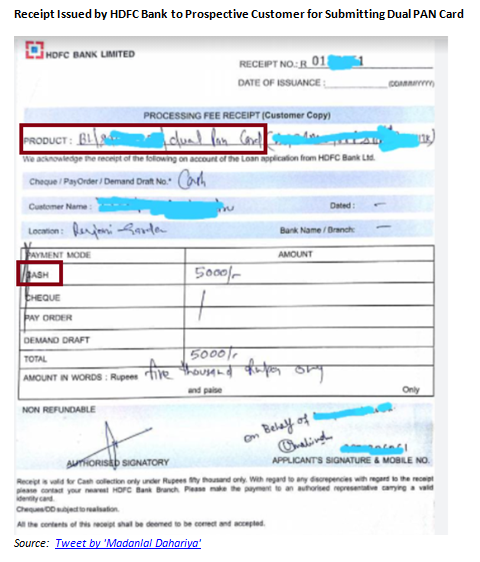 EXECUTIVE SUMMARY.
"hush money": money paid to someone to prevent them from disclosing embarrassing or discreditable information – Concise Oxford English Dictionary
HDFC Bank, India's most valuable bank, has been found to be levying 'processing fees' on prospective retail customers who submitted spurious documents for availing a loan from the bank. On July 28, 2021, the noted HDFC Bank whistle blower who uses the pseudonym 'Madanlal Dahariya' tweeted  that when prospective retail customers seeking a loan submitted false or misleading documents such as fake Permanent Account Numbers (PAN), dual PANs, forged Income Tax returns, and spurious salary slips/balance sheets, HDFC Bank did not report these individuals to the concerned authorities. Instead, the bank decided to convert this into a fee-enhancing opportunity, by calling these individuals and allegedly threatening to report them if they did not pay a 'processing fee' to the Bank. The whistle blower even uploaded samples of the fee receipts issued by HDFC Bank to such prospective retail customers.
What is appalling, but not at all surprising, is that even though 'Madanlal Dahariya' tweeted this development on July 28, 2021, nobody in the business media and sell-side research – many of whom diligently report on the most mundane of issues pertaining to HDFC Bank – demonstrated any inclination to verify this story. This is especially strange since many journalists follow the whistle blower on Twitter.
On August 24, 2021, this analyst, after making his own enquiries, sent a questionnaire to HDFC Bank mentioning the senior executives who reportedly originated this scheme many years ago and the charging of fees to prospective retail customers who had provided spurious documents. He asked whether it was accurate that the Reserve Bank of India was querying the bank on these incidents. On September 21, 2021, HDFC Bank responded and stated that the bank reported all such instances of spurious documents to the credit bureaus; there were very few cases where the bank had levied a fee of 2% of the loan amount to prospective customers; and the bank has since ceased such practices. Pertinently, HDFC Bank did not refute any of the allegations cited in the questionnaire.
The issue is whether banks can engage in extracting 'processing fees' from retail customers who submit false documents, instead of reporting the incident to the concerned authorities such as the Income Tax department (for false PAN, dual PAN etc) or the concerned state investigative agencies. Many of these violations are liable for criminal prosecution under the Indian Penal Code, 1860. Indeed, the bank's own conduct of levying a fee to customers and not reporting it to the concerned state agencies could be construed as abetment of a criminal offence.
Stakeholders, the banking regulator, the Income Tax authorities and other state agencies have to take this issue extremely seriously as it pertains to a prominent Indian bank. HDFC Bank's board of directors have to also conduct an internal investigation to determine whether this practice was the conduct of a few rogue employees or it was a business strategy to generate higher fees, as the whistle blower alleges in the tweets.  The RBI, the Income Tax department and other concerned state agencies also have to conduct their own investigations to determine how HDFC Bank was levying fees to non-customers without rendering any service, and instead for not reporting these incidents to the government agencies.
These incidents appear to be a legacy issue, and this analyst is confident that Sashidhar Jagdishan, the present Chief Executive Officer (CEO), HDFC Bank will immediately address the issue. However, if this practice is found to have been widespread in HDFC Bank, no banking regulator in the world can permit any bank to indulge in such activities without severe penalties. Therefore, in such a case, the RBI must impose stringent penalties such as restricting profitable business for a lengthy time span, as a lesson to the shareholders and the board of directors for not exercising the necessary due diligence.
DISCLOSURE
I, Hemindra Hazari, am a Securities and Exchange Board of India (SEBI) registered independent research analyst (Regd. No. INH000000594). I own equity shares in HDFC Bank. Views expressed in this Insight accurately reflect my personal opinion about the referenced securities and issuers and/or other subject matter as appropriate. This Insight does not contain and is not based on any non-public, material information. To the best of my knowledge, the views expressed in this Insight comply with Indian law as well as applicable law in the country from which it is posted. I have not been commissioned to write this Insight or hold any specific opinion on the securities referenced therein. This Insight is for informational purposes only and is not intended to provide financial, investment or other professional advice. It should not be construed as an offer to sell, a solicitation of an offer to buy, or a recommendation for any security.