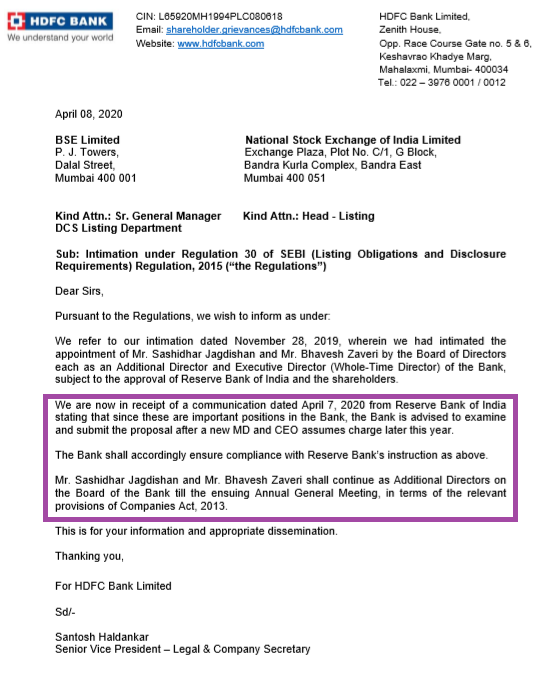 EXECUTIVE SUMMARY. At a time when the economic environment is very volatile, and HDFC Bank's share price has seen an unexpected slump, comes news of another bizarre corporate governance episode. Once more this paints a sorry picture of the board of India's number 1 bank by market capitalisation, and the reigning favourite of foreign institutional investors.
On November 28, 2019, the board appointed Sashidhar Jagdishan and Bhavesh Zaveri, two seasoned and respected bank officials, as Executive and Additional Directors, subject to the Reserve Bank of India's (RBI) approval. On April 8, 2020, the Bank informed the stock exchanges that the RBI had not approved of the individuals, as they wanted the new CEO to endorse future executive board members. But, shockingly, the Bank, in apparent open defiance of the regulator and in possible violation of Section 35B of the Banking Regulation Act, 1949, publicly stated that while it will comply with the regulatory direction, Jagdishan and Zaveri would continue as Additional Directors till the ensuing Annual General Meeting (AGM).
On April 9, 2020, this analyst, who is also a shareholder of HDFC Bank sent a query to the bank asking how the bank could continue to retain both the individuals as Additional Directors when the RBI had explicitly disapproved of their appointment at the current stage. HDFC Bank declined to respond to my query but on April 18, informed the stock exchanges that Jagdishan and Zaveri had resigned as directors and the board had accepted their resignation.
The corporate governance events unfolding at HDFC Bank resemble the theatre of the absurd. Earlier, Sandeep Parekh, independent director, member of the Search Committee, and also member of the Nominations and Remuneration Committee, went public on Twitter on the succession issue, publicly took offence at an article authored by this analyst on dissent within the HDFC Bank board, and revealed correspondence addressed to the Bank's chairperson. All this happened without any apparent board authorisation and in Parekh's personal capacity.
These events are transpiring at a crucial juncture for HDFC Bank, during an ill-planned and uncertain succession issue, an unexpected slump in its share price, and a domestic and global economy crippled by the Covid-19 virus. It is time the board of directors at HDFC Bank conduct itself in a more mature and competent manner.
DISCLOSURE & CERTIFICATION
I, Hemindra Hazari, am a registered Research Analyst with the Securities and Exchange Board of India (Registration No. INH000000594) I own shares in HDFC Bank referenced in this Insight. Views expressed in this Insight accurately reflect my personal opinion about the referenced securities and issuers and/or other subject matter as appropriate. This Insight does not contain and is not based on any non-public, material information. To the best of my knowledge, the views expressed in this Insight comply with Indian law as well as applicable law in the country from which it is posted. I have not been commissioned to write this Insight or hold any specific opinion on the securities referenced therein. This Insight is for informational purposes only and is not intended to provide financial, investment or other professional advice. It should not be construed as an offer to sell, a solicitation of an offer to buy, or a recommendation for any security.