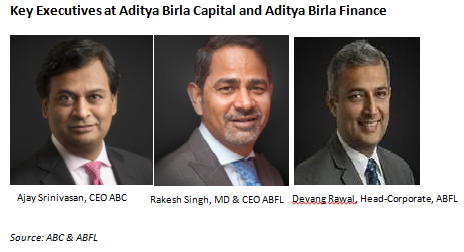 EXECUTIVE SUMMARY. Senior executives are rushing for the exit door at Aditya Birla Finance Ltd. (ABFL), the non-bank finance company (NBFC) subsidiary of Aditya Birla Capital (ABC), the holding company for all the financial services business of the Aditya Birla group. Since May 2021, at least five senior officials in-charge of business verticals and control functions including the Chief Financial Officer (CFO) have quit.
Coincidentally, the Securities and Exchange Board of India (SEBI)  issued  a show cause notice to ABFL as the regulator was investigating the NBFC's dubious role in structuring and disbursing loans to a shell company linked to the erstwhile promoters of CG Power wherein the funds were used to transfer liabilities from the erstwhile promoter companies to the listed CG Power. The SEBI show cause notice cited by ET Prime specifically mentioned the role played by Ajay Srinivasan  (non-executive director, ABFL and group CEO, ABC) and Devang Rawal (then Head – Corporate Finance and subsequently promoted as Head – Corporate and Institutional, ABFL).
Senior ABFL Executives Who Have Quit Since May 2021
Interestingly, ABFL is led by two CEOs, Rakesh Singh (Managing Director and CEO, ABFL) and Tushar Shah (CEO for infrastructure business) and all the five individuals who have resigned reported to the former. Incidentally, Devang Rawal's division which is currently being extensively investigated by SEBI also reports to Rakesh Singh.
ABC declined to respond to queries sent by this analyst to enquire why these executives had quit and whether the board of directors at ABFL and ABC, especially the independent directors were informed of their departure.
Stakeholders are concerned when there is a flurry of exits by senior executives in any firm as was seen in the recent case of AU Small Finance Bank. That such an event at ABFL coincides with agencies investigating dodgy deals at a NBFC belonging to a prestigious industrial house should send alarm bells ringing.
DISCLOSURE
I, Hemindra Hazari, am a Securities and Exchange Board of India (SEBI) registered independent research analyst (Regd. No. INH000000594). I own equity shares in Aditya Birla Capital. Views expressed in this Insight accurately reflect my personal opinion about the referenced securities and issuers and/or other subject matter as appropriate. This Insight does not contain and is not based on any non-public, material information. To the best of my knowledge, the views expressed in this Insight comply with Indian law as well as applicable law in the country from which it is posted. I have not been commissioned to write this Insight or hold any specific opinion on the securities referenced therein. This Insight is for informational purposes only and is not intended to provide financial, investment or other professional advice. It should not be construed as an offer to sell, a solicitation of an offer to buy, or a recommendation for any security.