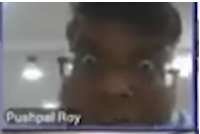 Toxic work culture is rife in the Indian financial sector and it is rare for senior executive management to acknowledge abusive behaviour by managers. It was therefore a surprise when Sashidhar Jagdishan, the Chief Executive Officer (CEO), HDFC Bank publicly acknowledged it in the bank's FY2023 annual report by stating,
"I am fully conscious of the fact that there may be instances where some people managers might transgress our defined way of working. We have the resolve to nip this in the bud, both by way of training/counselling and appropriate action, to ensure that the same is not attempted by anyone else. Having said that, we have some distance to traverse on this front…we are cognizant that the experience of working with HDFC Bank can be better on several counts, especially culture. The Bank upholds RESPECT for ALL as a fundamental tenet in the way we work with each other and our customers."
His searing statement to shareholders was on account of a video (with English subtitles) of a HDFC Bank zonal head exhibiting toxic behaviour with his juniors going viral soon after its release on June 5, 2023 on Twitter (original in Bengali). In the video, the zonal head is seen berating his juniors for not meeting the aggressive targets set. Some hours later HDFC Bank responded by suspending the concerned official and launching an investigation against him, stating that the bank has zero tolerance for such behaviour.
The short video obviously indicates the toxic work culture in the financial sector. But it is also symptomatic of larger issues in the sector, such as setting unrealistic sales targets, poor leadership development and lack of communicational and motivational skills. These factors are invariably not publicly discussed by the senior management.
During the course of the video, viewers get to see the faces of the other participants on the call, including the individuals who are the victims of the official's verbal abuse. At no time do they exhibit surprise at such toxic behaviour, which indicates either that all these individuals can disguise their emotions, or that the official is a repeat offender, and they are used to such behaviour. Moreover, the apparently unauthorised recording of the video conference indicates that someone wanted to document the habitual misbehaviour of the concerned official, in order to report it to the senior authorities. Normally such sales review conference calls are of 1-2 hours duration. Even if some allege that the manager exhibited such behaviour for a short time, the fact that his behaviour was so obnoxious even for that short duration is inexcusable.
It is pertinent to note that the zonal head is not addressing entry-level executives, but more experienced mid-management cadre having 8-15 years of experience, who are either in charge of clusters (branches report to a cluster head) or are senior branch managers. It is telling that even such executives can be publicly humiliated by a senior manager.
In any performance-driven company the management has the right to give stretched targets, but the juniors also have the right to demand enablers (additional human resources, client data bases, technology assistance, multiple channels etc). In the process of negotiation between the leader and the juniors, achievable, or even slightly stretched, targets can be set and the enablers provided to achieve those results.
As HDFC Bank is a high-performance-oriented bank, it appears that management may be setting unrealistic sales targets without providing the required enablers, and that targets are set without taking inputs from the ground level on what is achievable with the given enablers.
It is the leader's responsibility to provide the strategy and guide the juniors on how the targets can be met, and how to adopt different methods when the initial methods are not producing results. However, the entire video is a monologue, in which the official is simply berating his juniors for not achieving the targets. In another video of the same meeting there is, briefly, a rare commendation by the zonal head to one of his juniors, but the general tenor of the video is the same. There is no dialogue between the leader and his juniors regarding the problems that they may be facing, nor is the leader providing any enablers and/or solutions. There is a complete absence of strategy and mentoring in the videos.
Clearly, communication training on how leaders should speak and conduct themselves in a group environment is also missing. Raising one's voice, shouting and threatening to sack the concerned employee appear to be accepted practices for leaders to communicate with juniors who are failing to meet targets. The fear culture is a primitive form of pressure to apply to mid-level/senior executives in any organisation. It is possible that when juniors are exposed only to seniors who abuse and terrorise in order to achieve targets, they in turn, upon being promoted, employ the same tools upon their juniors – indeed, they know no other tools.
It is the responsibility of the company, and in particular the human resources department, to groom leaders and supervisors and impart the necessary knowledge, motivational and communication skills in managing individuals to grow the business. The conduct of this zonal head in the video conference call reveals the failure of the organisation in selection and training of its leaders. As such conduct is reportedly widespread in the financial sector as another excessively abusive video of a Bajaj Financial Services manager reaffirms, it is clear the industry has failed in a big way in equipping leaders with the all-important soft skills of leadership, mentoring and communication to develop business.
It is extremely important for leaders to be instructed on how to calibrate pressure; too little may lead to complacency, too much may cause a demoralised work force, labour unrest and attrition.
The private sector banks like HDFC Bank, Axis Bank, Kotak Mahindra Bank (KMB) and Yes Bank have a significantly higher staff attrition (34%-46%) as compared with State Bank of India (4.7%), which is a performance-driven government bank. ICICI Bank has not disclosed attrition till FY2022. Despite SBI having significantly larger staff, its attrition in absolute numbers too is much lower than HDFC Bank, Axis Bank, and KMB. While the setting and achieving of sales targets is lower in government banks, the difference in attrition is huge, which can be partly explained by private banks more aggressive work culture and inadequate training in developing leadership skills.

Labour unions and officer associations are institutional mechanisms protecting the welfare of the staff. Having such organisations insulates the lower level staff from the excesses of the senior management, and curtails rude behaviour and long working hours. It is therefore no surprise that organisations having a high attrition have either nil or negligible unions/officer associations. Such is the case with HDFC Bank, Axis Bank, KMB and Yes Bank whereas at SBI 96.2% of the permanent workforce in FY2023 were members of such organisations.
It is possible that on account of increasing competition from other banks, non-bank finance companies and financial technology companies, there is tremendous pressure to grow and increase the company's valuation. It is unfortunate that management believes the only pressure tool available is to shout, abuse and threaten to fire lower level staff to achieve over-ambitious sales targets.
On social media many have commented that such behaviour is common in the private financial sector, where there is daily pressure to meet multiple product (current, savings and term deposits, insurance, mutual fund etc) targets. Indeed, this analyst had highlighted the example of Ravi Narayanan, Group Head Retail Liabilities and Branch Banking, Axis Bank conduct at a town hall meeting to staff on December 24, 2021. Narayanan's position was just one level below the board of directors. In the town hall meeting he reportedly said,
"employees should fight, abuse and complain amongst them [sic] for business, this is the attitude what [sic] I like."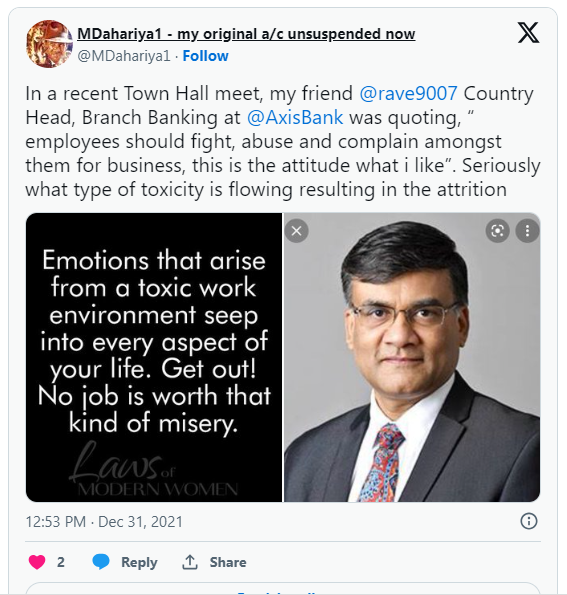 Unlike the far less senior HDFC Bank official, who was immediately suspended by the bank, Narayanan continues to occupy his post at Axis Bank. This indicates that mid-level managers in the financial sector are expendable, while very senior officials are protected for engaging in such toxic behaviour.
Sample of Response on Linkedin Stating Abuse is Widely Prevalent in the Sector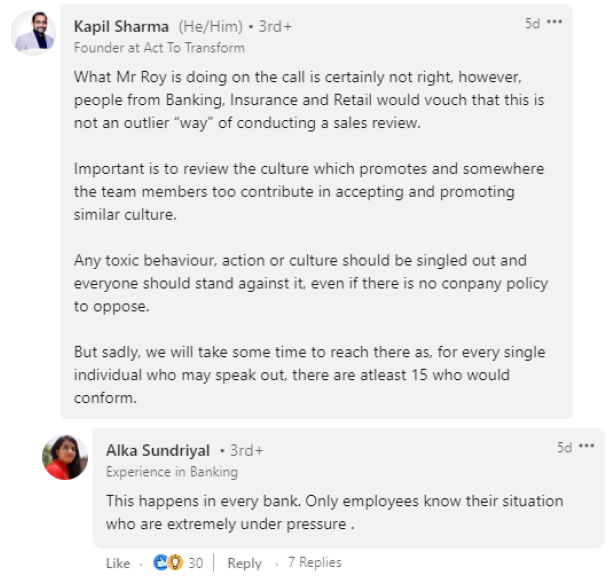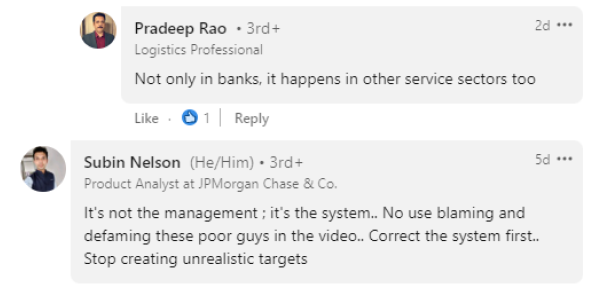 In such a scenario, the banking regulator must intervene and conduct its own investigation to determine how widespread this toxic culture is, and whether senior management is setting unrealistically high sales targets, which results in such behaviour and culture. It is imperative that the human resource department is empowered by the board of directors and by the Chief Executive Officer to insulate staff in high performance companies from such toxic pressures. It must educate staff in motivational, communicational and leadership skills. The management itself should take a firm stance to eradicate such an oppressive culture. The regulator must also consider insisting on the establishment of labour unions and officer associations in private sector banks. As this abusive culture results in mis-selling to the banks' own customers, undermining confidence, the banking regulator must also consider either banning banks from undertaking third party sales or enforce punitive penalties for mis-selling.
Even though the HDFC Bank and Bajaj Financial Services videos went viral and many commented that the abusive behaviour is common in the financial sector, the stock market has treated the incident as a one-off event which will not impact the financial sector, where reportedly the practice is widely prevalent. The stock market does not contemplate any major fall-out from this issue, and normally senior management responds by stating that these are isolated events.
In a culture where CEOs rarely publicly acknowledge any shortcomings it was remarkably candid of Sashidhar Jagdishan to be upfront to the bank's shareholders which is commendable but the issue needs to be widely analysed and debated.
It would be naïve on the part of stakeholders and the financial sector regulator to believe that these incidents are an anomaly, or that it is a case of only a few bad apples. The banking industry is strategic to the economy, and has a large labour force. Such an industry can ill-afford the consequences of an oppressed, disgruntled labour force which is compelled to mis-sell to achieve unrealistic sales targets.
An edited version of this article was published in The Wire and can be read here
DISCLOSURE
I, Hemindra Hazari, am a Securities and Exchange Board of India (SEBI) registered independent research analyst (Regd. No. INH000000594). I own equity shares in all the companies mentioned in this report. HDFC Bank subscribes to this analyst's research and a member of this analyst's family is employed with the bank. Views expressed in this Insight accurately reflect my personal opinion about the referenced securities and issuers and/or other subject matter as appropriate. This Insight does not contain and is not based on any non-public, material information. To the best of my knowledge, the views expressed in this Insight comply with Indian law as well as applicable law in the country from which it is posted. I have not been commissioned to write this Insight or hold any specific opinion on the securities referenced therein. This Insight is for informational purposes only and is not intended to provide financial, investment or other professional advice. It should not be construed as an offer to sell, a solicitation of an offer to buy, or a recommendation for any security.
www.hemindrahazari.com
All rights reserved. No portion of this article may be reproduced in any form without permission from the author. For permissions contact: