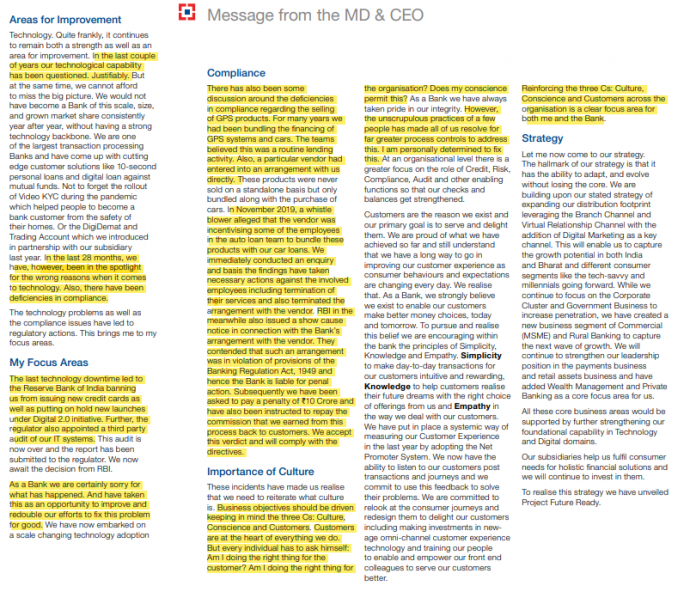 EXECUTIVE SUMMARY. There is a surprising change in the public profiles of the Chief Executive Officers (CEOs) of India's first and second largest private sector banks, HDFC Bank and ICICI Bank. What are the implications?
Both Sashidhar Jagdishan and Sandeep Bakshi stepped into the shoes of high-profile predecessors: the iconic Aditya Puri is credited with the US$ 100 bn plus valuation of HDFC Bank, while Chanda Kochhar continued to build on the ICICI Bank franchise; she was later sacked in disgrace over a conflict of interest. For better or worse, the 'brands' of the respective banks became closely identified with Puri and Kochhar. As compared with their high profile predecessors, Jagdishan and Bakshi maintain a low media profile, while attempting to change the culture, the very DNA of their organizations. At the same time, they are trying to meet the street's high expectations regarding growth and asset quality.
Bakshi took charge at ICICI Bank on October 15, 2018, and has remained virtually invisible, unlike his predecessor, who constantly figured in the media. He has preferred to remain mute and let the ICICI Bank share price do the talking. Atypically by ICICI Bank standards, even when the bank made undisputed gains in business (e.g., the increase in its credit card market share by spends), it has declined to make any public statement or provide access and publicity to its achievement. One rarely finds any formal media interview with Bakshi since he took charge as the CEO. During the bank's results call, he provides a brief introduction and thereafter allows his concerned heads to elaborate on the bank's performance. Such a demeanour by a senior ICICI Bank executive is welcome but also highly abnormal in the leadership history of this institution.
This analyst has covered ICICI Bank (including the erstwhile ICICI) for nearly 23 years. For nearly two decades, under the leadership of KV Kamath and subsequently Chanda Kochhar, the institution declined to interact with him on account of his critical reports. The erstwhile ICICI leaders who transitioned to the bank and the coterie surrounding them were noted for their arrogance and intolerance towards any criticism levelled at the institution. It was therefore surprising that ICICI Bank reinitiated contact with this analyst after a gap of nearly 20 years, soon after Bakshi took charge as CEO. This is all the more surprising as it was this analyst who had exposed Sandeep Bakshi's shameful conduct in authorising a false criminal complaint against a whistle blower when he was CEO, ICICI Prudential Life Insurance. (That false complaint had led to the innocent Nitin Balchandani being in jail for 30 days; he was subsequently released by the Rajasthan High Court for lack of evidence.)
Like other banking analysts, this analyst had interacted with Jagdishan since he was the Chief Financial Officer (CFO), HDFC Bank. In the course of those interactions, Jagdishan came across as a straight-talking individual who did not duck or sidestep critical questions and issues and was candid enough to admit to the bank's mistakes and shortcoming. This analyst published many reports (here, here and here) sharply critical of HDFC Bank and atleast one after Jagdishan took charge. Even though Jagdishan disagreed with some of these views, he continued to engage with this analyst. This is most unlike the conduct of HDFC Bank's parent, HDFC, whose veteran leadership is respected, but cannot tolerate the slightest criticism, and declines to reply to any queries from this analyst since a critical report was released.
In corporate India, reared on leader worship, it is rare for CEOs to publicly accept mistakes and apologise, as they believe it would diminish their public image. It is even rarer for them to tolerate criticism and the instinct of many 'revered corporate icons' is to boycott critics, both as a punishment and to serve as a warning to any other potential dissenters. For all the sermons they preach on corporate governance, in reality public listed companies are treated like their personal fiefdoms, and their authority is unchallenged by pliant boards of directors, obedient business journalists and tame sell-side analysts.
It is therefore refreshing to note the apparent decision of Jagdishan and Bakshi to maintain low public visibility, at least for the time being, and for both to tolerate critics and continue to engage with them. Jagdishan has even acknowledged and publicly apologised for HDFC Bank's failings. Reportedly, the new leaderships at both banks are attempting to change the culture of their respective organisations in a way that will ultimately benefit all stakeholders, including customers and employees, while doing their business in a low profile manner.
To date, the stock market has rewarded Bakshi and penalised Jagdishan, perhaps because investors have some concerns that the latter's more humane approach may disrupt the ruthlessly efficient business model built by Aditya Puri. However, this analyst believes that in both institutions the new leadership may eventually prove rewarding to investors. Rather than base the bank's brand on a celebrity CEO, it is preferable to base it on solid and stable systems.
DISCLOSURE
I, Hemindra Hazari, am a Securities and Exchange Board of India (SEBI) registered independent research analyst (Regd. No. INH000000594). I own equity shares in HDFC Bank and ICICI Bank mentioned in this report. Views expressed in this Insight accurately reflect my personal opinion about the referenced securities and issuers and/or other subject matter as appropriate. This Insight does not contain and is not based on any non-public, material information. To the best of my knowledge, the views expressed in this Insight comply with Indian law as well as applicable law in the country from which it is posted. I have not been commissioned to write this Insight or hold any specific opinion on the securities referenced therein. This Insight is for informational purposes only and is not intended to provide financial, investment or other professional advice. It should not be construed as an offer to sell, a solicitation of an offer to buy, or a recommendation for any security.